Recently, the party has come under scrutiny for its attitudes towards the Chinese regime – an attitude which is far more nuanced, to the point of being sympathetic. Last year, in a meeting with the Chinese ambassador, the party's foreign affairs spokesperson swallowed hook, line and sinker the official Beijing position on pro-democracy protests in Hong Kong (that they're "violent crimes"), thanked the ambassador for the "clarification" and expressed the hope that the territory would get back on the "right track" as soon as possible.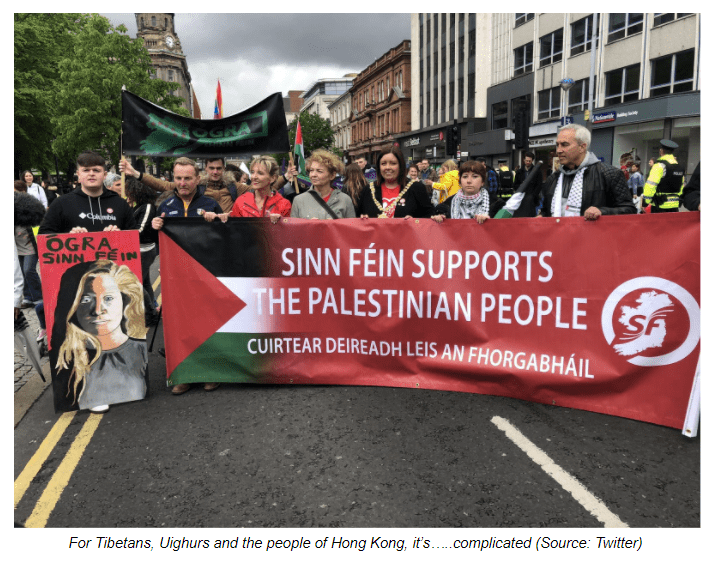 Last month, 20 members of the Oireachtas signed a letter calling for the Irish government to condemn the Chinese regime's treatment of the Uighur Muslims in Xinjiang Province. There were signatories from Fianna Fáil, Fine Gael, the Green Party, the Social Democrats, and Aontú, as well as many independent members. Not one Sinn Féiner signed the letter. Nor did any Sinn Féiner put their name to a declaration by nearly 1,000 worldwide parliamentarians condemning China's breach of Sino-British treaties, even though representatives of the Green Party, the Labour Party, Fianna Fáil and Fine Gael did.
In recent days, this line seems to have been reinforced by Sinn Féin's Deputy First Minister in Northern Ireland, Michelle O'Neill. In a meeting with the Chinese consul general, she (along with the First Minister, the DUP's Arlene Foster) was reported to have expressed understanding and respect for the Beijing regime's decision to impose draconian new security laws in Hong Kong. In fairness to Ms. Foster, she has since said that the Chinese consulate had misrepresented her views and that her position was the same as that of the UK government; i.e. that the legislation is a "clear and serious breach" of agreements between the UK and China over Hong Kong.
In the last couple of days, it has come to light that Sinn Fein MEP Chris McManus abstained in a European Parliament vote condemning the Hong Kong security laws because it "implicitly supports sanctions" which "would have impacted ordinary Chinese people". There you have the hypocrisy laid out for all to see. Sinn Féiners don't care if their pro-BDS policies devastate the lives of ordinary Palestinians, never mind ordinary Israelis. However, they use the exact opposite point to hide behind their opposition to sanctions against the Beijing regime.
Sinn Féin has serious questions to answer about its relationship with Beijing. What is the nature of that relationship? Why is there such a reluctance to criticise Chinese human rights abuses? Why does it seem to be happy to uncritically accept the Beijing line on so many issues? And why is it so hostile to the only democratic state in the Middle East while it kow-tows to a totalitarian, communist dictatorship?