A major rift is appearing in the ranks of BDS supporters, with battle lines drawn over just how much antisemitism is acceptable in the BDS movement. 
There's a relatively new pro-Palestinian organisation called "Jisr Collective" which describes itself as an "Anti-Imperialist Arab Diaspora Media Collective", Jisr means bridge in Arabic, and the organisation is an unfunded volunteer group.
Jisr announced on July 5 (in big shaming red letters) that:
the BDS National Committee (BNC) 
Supports the Liberal Zionist Agenda
They accuse the BNC of "normalizing, and appeasing" Zionists. How did such a bizarre announcement come about?
It all started in early June when the Boston branch of BDS tweeted its support for the Mapping Project, a "multi-generational collective of activists and organizers… who wanted to develop a deeper understanding of local institutional support for the colonization of Palestine and harms that we see as linked, such as policing, US imperialism, and displacement/ethnic cleansing".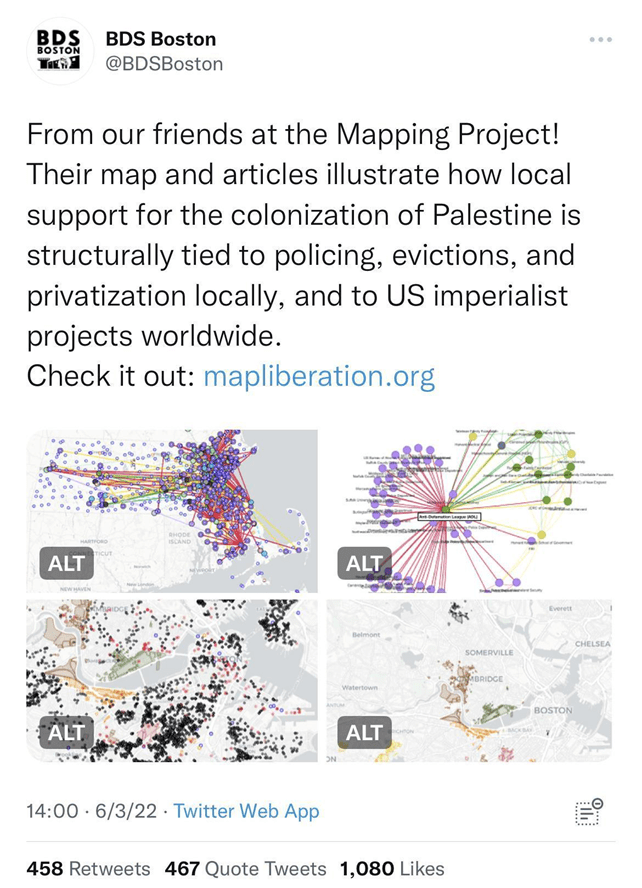 The map purports to illustrate links between organisations that support the "colonisation of Palestine" and includes the addresses of local Jewish political organizations and foundations, Jewish day schools and synagogue groups, politicians, pharmaceutical companies and more. The website says the goal is to "dismantle" these institutions, and they hope the project will be replicated in other locations.
Politicians and Jewish leaders have condemned the anonymous website as a roadmap for antisemitic attacks.
The American Jewish Committee has pointed out the map makes clear the underlying antisemitism of the BDS movement, saying:
"Using a series of dots and lines in different colors, it not only connects pro-Israel groups but other Jewish institutions, including a high school, a center for people with disabilities, student groups, synagogues, newspapers, Jewish-run charities, and even a center for Jewish arts."
CAMERAorg (Committee for Accuracy in Middle East Reporting and Analysis) is one of the organisations listed on the map. They tweeted:
"…it's impossible to escape conclusion that it targets Jews for being Jews, reminiscent of Nazi-era singling out & forced visible identification of Jews to facilitate their persecution"
The Boston area FBI office has told local Jewish leaders that agents are "very well aware and are tracking the Mapping Project website, and are working to identify additional information regarding this website."
The Mapping Project has been endorsed not only by Boston BDS, but also by the terrorist group Popular Front for the Liberation of Palestine, the terror-linked  Samidoun Network (see our June blog on Samidoun and the Irish connection here) and the Iranian regime's Press TV.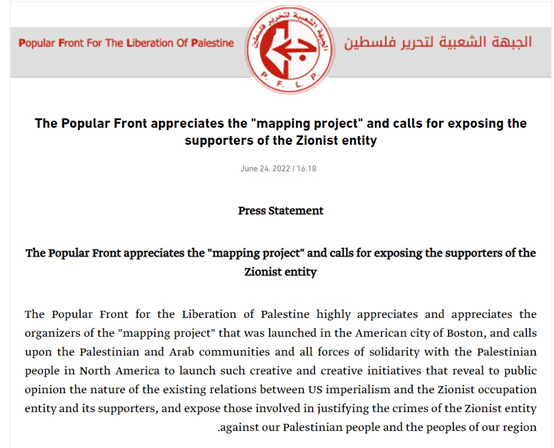 So far, so normal. The BDS movement has demonstrated its antisemitism in the past. An Israeli government report titled "Behind the Mask" documents the prevalence in the BDS movement of antisemitism, Holocaust inversion and denial of the Jewish right to self-determination.
However, the Boston Mapping Project was a step too far even for the jaded sensitivity of the BDS movement, which repudiated the project while also slamming those using it to attack "Palestinian solidarity".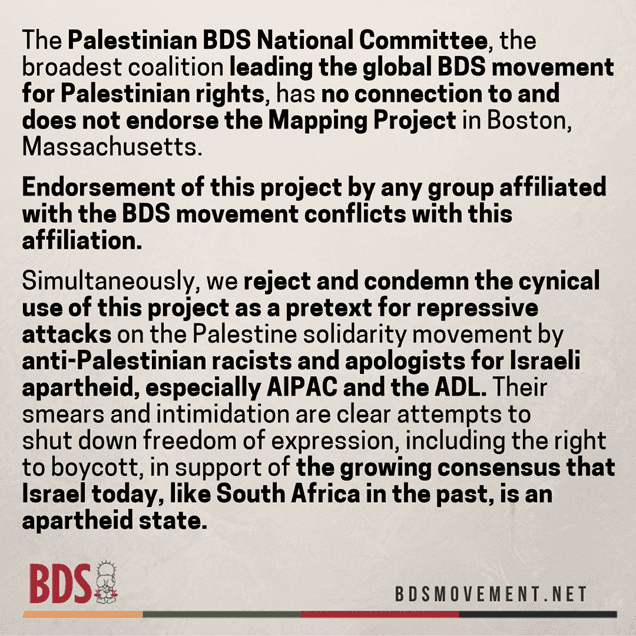 The shock of this announcement reverberated around the BDS world, and it turns out pro-Palestinian solidarity only stretches so far. 
The Jisr accusation that the BDS National Committee (BNC) is aligned with the "Zionist agenda" is laughable. Anyone who has studied the objectives of the BDS movement knows it is anti-Zionist at its core; this hasn't stopped a number of groups from supporting the Jisr position, including the Palestinian Youth Movement.
Meanwhile, another split emerges
Until recently, Mohammed El-Kurd from east Jerusalem was being lionised as being one of the lead voices protesting Israel's actions in Sheikh Jarrah. El-Kurd and his sister Muna featured in the Time magazine list of the 100 most influential people of 2021 and were profiled by the Financial Times. He has spent much of the last year touring American universities spreading anti-Israel propaganda, blood libels and antisemitic tropes and being paid up to US$10,000 per event.
Just over a year ago, we published an article highlighting the sharp contrast between Israel and the Palestine Territories in terms of rights for and attitudes towards the LGBT+ community and how much worse things are for LGBT people living in Palestinian areas. As it happens, another split has recently emerged amongst anti-Israel groups that highlights this situation again.
The reaction from Palestinians has been extremely negative with some claiming that he had actually come out as being gay (although he hasn't), that even just being gay is a major sin and that his support for LGBT rights is at variance with Palestinian values.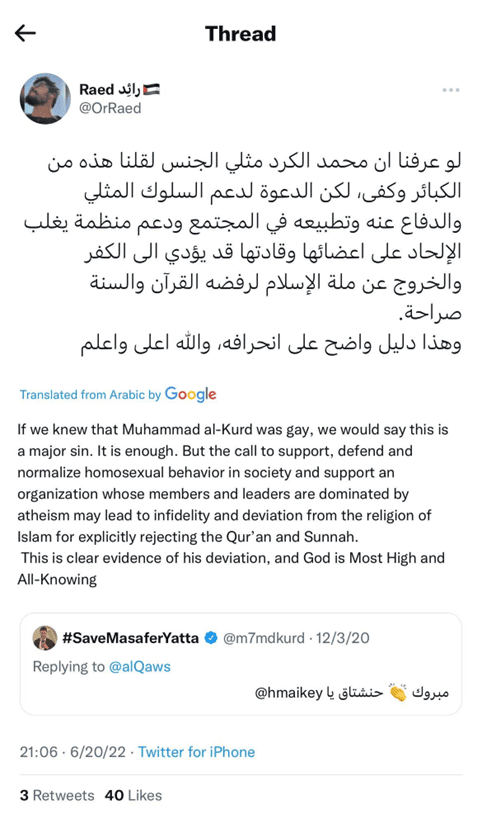 Fundamental weakness in activism
The great majority of pro-Palestinian support in western countries comes from the left of the political spectrum and from groups that actively campaign in favour of feminism and LGBT rights, and against racism, including (one hopes) antisemitism. 
These two splits highlight the awkward dichotomy between the attitudes that prevail in these left-wing groups and those of many of the Palestinians they work with and for. So far, they haven't confronted this at all and their silence is a fundamental weakness in their supposed "pro-Palestinian" stance.
In the meantime, the vocal embrace of antisemitism and homophobia by some Palestinians will continue to plague pro-Palestinian activism. Those who claim they want to "free Palestine" will be forced to consider exactly what that Palestine might look like.
By Éilís Ní Cómhaltáin and Ciarán Ó Raghallaigh