"Samidoun:Palestinian Prisoner Solidarity Network" describes itself as "an international network of organizers and activists working to build solidarity with Palestinian prisoners in their struggle for freedom." The Israeli government describes Samidoun as a terrorist organisation that serves as an overseas front for the Popular Front for the Liberation of Palestine (PFLP).  The PFLP supports "the use of all means, including armed resistance, to defeat the Zionist state and liberate the land of Palestine." The PFLP is designated as a terrorist organisation in the United States, United Kingdom, European Union, Canada and Israel.
On 28 February 2021, Israel's Minister for Defense Benny Gantz signed a formal order designating Samidoun as a terror organisation.
In April 2022, Canadian journalist Terry Glavin wrote an exposé of Khaled Barakat, a senior leader in both the PFLP and Samidoun, for the National Post. Barakat lives in Vancouver, but has travelled to Europe in various capacities associated with Palestinian activism. Glavin's article describes the evidence linking Barakat to Samidoun and the PFLP.
Samidoun has chapters in France, Germany, the Netherlands, Spain, Greece, Hungary and Sweden. While it has no official chapter in Ireland, it has links with at least three Irish Republican organisations.
"Éirígí For A New Republic" is a socialist Republican political party formed in 2006 by a splinter group of former Sinn Fein members for whom Sinn Fein policies are insufficiently radical on a United Ireland, and insufficiently socialist. The organisation supports BDS and the Occupied Territories Bill. 
In January 2022, Limerick activists from Éirígí took part in a protest demanding the release of Ahmad Sa'adat and "thousands of other Palestinian political prisoners being held in Israeli gaols." 
Sa'adat has been the General-Secretary of the PFLP since 2001. He was imprisoned first by the Palestinian National Authority and then by Israel since 2002 for the 2001 assassination of Rehavam Ze'evi, Israel's tourism minister.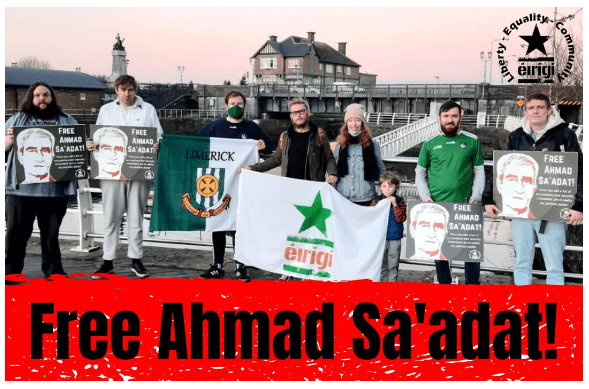 Following the shooting death of journalist Lyra McKee by members of the New IRA, Éirigí issued a statement calling for an end to "continued armed actions by republicans" and affirming their policy of building a "peaceful mass movement".
Éirígí has 31,000 followers on Facebook and 3,700 followers on Twitter.
Anti-Imperialist Action Ireland (AIAI)
AIAI is another socialist Republican organisation, formed in 2017. It is more open about its links with Samidoun, as their protest events are announced on Twitter and Facebook with references to Samidoun. 
In April 2022, AIAI and Macradh ISR Youth in Dublin held protests in support of the Boycott, Divestment and Sanctions (BDS) movement against Israel. Their protest stall displayed their own flag alongside the Palestinian flag and the flag of the PFLP. Unlike Éirígí members, these protesters hide their identities.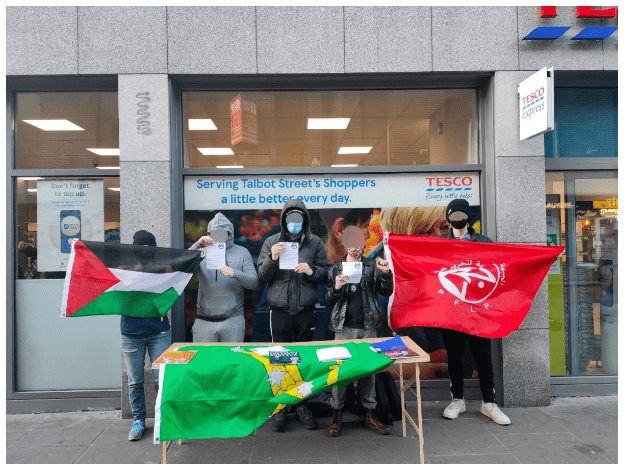 Their support for Palestinian terrorism is illustrated by these images posted to the Facebook page of Anti Imperialist Action South Leinster during May 2022.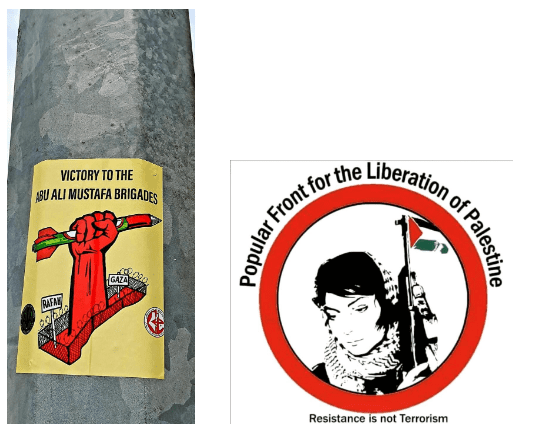 The Abu Ali Mustafa Brigades is the armed wing of the PFLP in "Gaza, the West Bank and East Jerusalem". They are responsible for shootings, suicide bombs which killed 17 Israelis and an attack on a synagogue in 2014 with knives, axes and a gun – four rabbis died at the scene and a Druze police officer died later of his wounds. Leila Khaled took part in two airline hijackings in 1969 and 1970.
The image below, showing activists holding the PFLP flag, was posted to an AIAI Facebook page on 31 March 2022.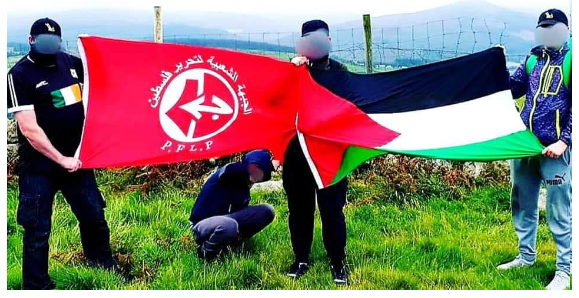 It is difficult to establish the level of support for AIAI. They have a Twitter account with 9,500 followers and a number of Facebook accounts whose supporters may overlap.
AIAI For National Liberation and Socialist Revolution – 1055 likes
Anti Imperialist Action South Leinster – 1,200 followers
Anti Imperialist Action Dublin South Central – 1,712 likes
Macradh – ISR Youth – 969
Saoradh is another far-left political party formed in 2016 by dissident Republicans. The Police Service of Northern Ireland believe they are the political wing of the New IRA, a paramilitary organisation formed by the merger of a number of smaller paramilitary groups. Saoradh denies any link. The New IRA is committed to armed action against any border infrastructure that might result from Brexit, and is thought to have made arms deals with Hezbollah in Lebanon. Saoradh is suspected of links to Iran.
Saoradh has supported the Samidoun campaign for the release of Issam Bassalat, a Palestinian doctor with Scottish citizenship who was arrested in Northern Ireland on suspicion of "preparatory acts of terrorism". The organisation hosted a Zoom event on "solidarity" with Bassalat and Republican prisoners in September 2021.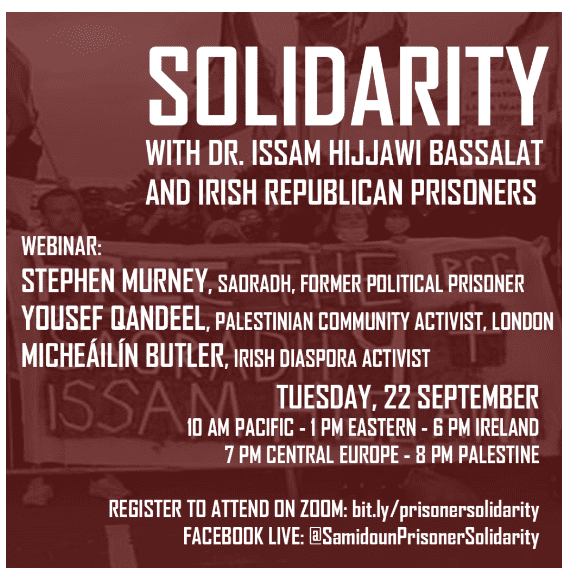 Saoradh has seen its Twitter and Facebook accounts closed by the social media moderators since the shooting of journalist Lyra McKee by the New IRA.
It is clear that there exists substantial linkage between a number of Irish socialist republican organisations, some of which support armed struggle, and both Samidoun and the PFLP. In the case of Anti Imperialist Action Ireland, the support for the PFLP and other Palestinian terror groups is overt – this should be as much a matter of concern to the Gardai and the PSNI as the activities of Saoradh and the New IRA.
Postscript - Trinity BDS Campaign
The Trinity BDS Campaign was founded by students at Trinity College Dublin who subscribe to far-left policies similar to those of the groups described above. On 15 May 2021, Trinity BDS, together with TCD Students Union and UCD Students Union, organised a "Rally for Solidarity with Palestine". May 15 is referred to as 'Nakba Day' by Palestinian activists and events are held worldwide to mark the day. 
The Trinity BDS event was publicised on the Samidoun events page: