We were delighted to welcome Israel's new Ambassador to Ireland, Lironne Bar-Sadeh on Thursday evening 18th November in Dublin. The evening's theme was 'The Issues and Dilemmas Confronting Israel Today', followed by a drinks and buffet reception.
Ambassador Bar-Sadeh was interviewed by Maurice Cohen, Chair of the Jewish Representative Council of Ireland (JRCI). The Ambassador spoke about her hopes and aspirations for her tenure here in Ireland.
Our other distinguished guests were:
Natasha Hausdorff, Barrister and Legal Director of UKLIF Charitable Trust, joined us from the UK. Natasha is a good friend and colleague of the Ireland Israel Alliance and we have worked together on previous occasions, including at a Joint Committee on Foreign Affairs and Defence meeting in May of this year. Natasha referenced David Collier's disturbing report Antisemitism in Ireland which was published last month, with an Introduction by Jackie Goodall. 
Alan Shatter, former Minister for Justice, Equality and Defence and Chair of MDA Ireland, spoke passionately regarding the lies spread about Israel throughout Irish society, and how antisemitism in Ireland is not adequately addressed.
Audrey Griffin, who represented the International Christian Embassy Jerusalem, touched on the dangers of supersessionism -also known as replacement theology -as well as introducing her new book 'Hey Ireland! Israel's On The Line: Are We Prepared for a Potential Holocaust?' 
Following the series of talks and Q&A session, Audrey brought the evening to a close with a beautiful rendition of Yerushalayim Shel Zahav (Jerusalem of Gold), accompanied by professional classical pianist and music lecturer at TUD Conservatory of Music.
Despite the challenges presented by covid, we welcomed a very diverse and appreciative audience, including leaders and members of Ireland's Jewish community, a cross-section of Christian leaders and advocates, secular supporters, politicians from Fine Gael and Fianna Fáil, and members of the press.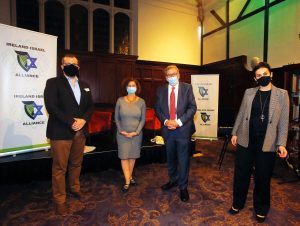 We were also very pleased to see a good number of younger supporters present and we expect to engage with them further over the coming weeks and months.

Apart from our stellar line-up of speakers, each of whom spoke for about 15 minutes each, many people said how good it was to be able to meet again in person, and that it was a very real source of encouragement, given the high levels of anti-Israel rhetoric in Ireland, some of which crosses the line into antisemitism and which we have witnessed from certain of our elected representatives. 

Meanwhile, we appreciate many of our supporters were not in a position to attend in person and so we would encourage you to listen to the videos of the speakers and to share them widely. There are some real gems contained within these presentations!
thank you all for supporting