How are our TDs using written parliamentary questions on Middle Eastern conflict zones, and what do the responses tell us about Government policy on Israel?
Under Ireland's parliamentary questions system, Dail members (TDs) are permitted to submit written questions and the relevant minister must reply within three sitting days.  We have reviewed the questions submitted for written reply about Israel for the period from January 1 to October 31, 2018. For comparison purposes, we also reviewed questions submitted about Syria and Yemen. Only questions specifically about those three countries are included: general questions about humanitarian aid, deployment of Irish peacekeeping troops or international trade have been excluded.  It is important not to read too much into the questions, since there is no information as to which questions are a TD's own and which are perhaps prompted by constituents. Nevertheless, some conclusions on trends and special interests can be drawn from this analysis.
Overall, Israel leads the way with 119 questions compared to 63 for Syria and only 19 for Yemen. Given the scale of the disaster unfolding in Syria and Yemen this is difficult to understand.  It is estimated that around 6,000 people have been killed during 2018 in the Syrian civil war. Since the start of that war over 500,000 Syrians have died and 5 million refugees have fled. At least 15 million people in Yemen are at risk of famine; according to UNICEF, a Yemeni child dies every ten minutes from preventable war-related causes –  Yemen is the world's worst humanitarian crisis. Meanwhile approximately 270 Palestinians have been killed in the Israel-Palestine conflict in 2018, most of them at the Gaza border demonstrations.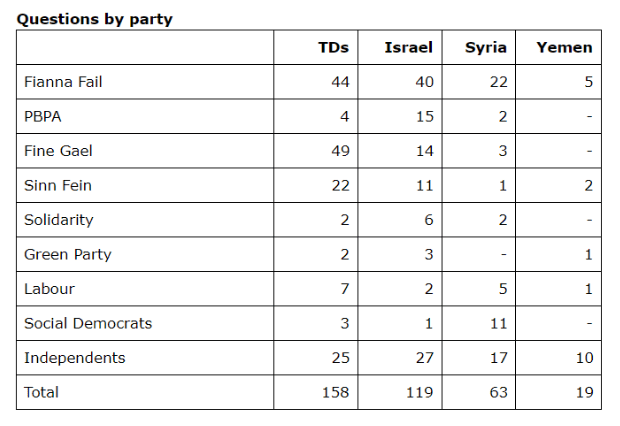 It is unsurprising that Fianna Fail, the main opposition party, leads the way with written questions, or that Fine Gael and Labour ask relatively few; most of the Fine Gael questions are very open-ended and seem to be little more than prompts to allow Simon Coveney to report on meetings with EU or international leaders, or to elaborate on general government policies. Neither is it news that PBPA, Solidarity and Sinn Fein focus almost exclusively on matters related to Israel, with 32 questions between them, compared to five on Syria and two on Yemen, the latter both from Sinn Fein.  The Social Democrats and Labour each asked more questions about Syria than about Israel, while the Green Party hardly asks any written questions.
The majority of questions from Independent TDs were asked by just three members. Clare Daly and Tommy Broughan asked 20 of the 27 questions about Israel, as well as 8 of the 17 Syria questions, while Mick Wallace asked 5 of the 10 Yemen questions.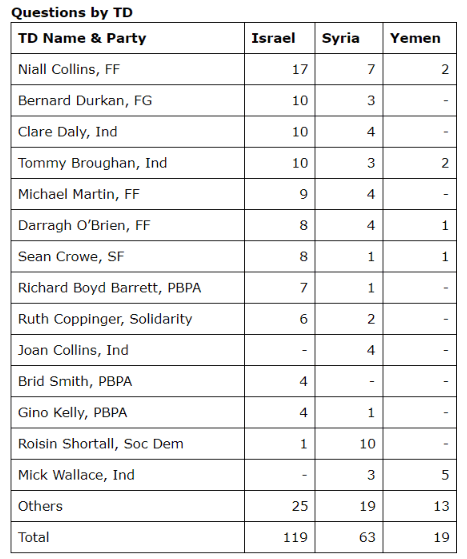 As expected, Fianna Fail TDs pose the most questions, with  party leader Michael Martin and current and former spokespersons on Foreign Affairs Niall Collins and Darragh O'Brien accounting for 34 on Israel, 15 on Syria and 3 on Yemen.  Along with very general queries asking Minister Coveney for reports on meetings held at EU Councils and his visits to the Middle East, Fianna Fail questions on Israel covered topics including the status of efforts to restart a peace process, the US embassy move to Jerusalem, the impact of restrictions on imports into Gaza, the expansion of "illegal settlements", the protection of Christian churches in the Occupied Territories and the Government's views on plans to restrict trade with settlements in occupied territories (the "Frances Black Bill").
Independent TDs tend to use much stronger language in questions on Israel, particularly in relation to the Gaza protests. Phrases like  "ongoing consistent and flagrant breaches on international law" and "unequivocally excessive, disproportionate and lethal use of force by Israel" are typical, along with  demands for independent investigations into, and condemnation of, Israel's actions. Other topics raised are Israel's bombing of Syria, the detention of Ahed Tamimi, Israel's blacklist of IPSC members and recognition of Palestine as a State. Somewhat bizarrely, in March Clare Daly asked Minister Simon Coveney to lobby Greece and Cyprus to withdraw from a deal for the supply of Israeli natural gas and in July, while other TDs were concerned about Russian use of lethal force on Syrian civilians, Daly asked about supports for Irish exporters seeking to do business in Syria.
Sinn Fein's questions cover a wide range of Israel-Palestine issues, including the blacklist on IPSC members, whether Israel has lobbied to close IPSC bank accounts, the early release from prison of IDF soldier Elor Azaria, the raid in March on a West Bank University to arrest a student leader of Hamas and the planned destruction of the Bedouin village at Khan al Ahmar. Ruth Coppinger raises similar issues, with the addition of a question on the Nation State Law.  Roisin Shortall asked only one question on Israel after a day of particularly violent protests in Gaza in April 2018.
Some questions from PBPA are uninformed enough to be amusing, and they earn deservedly basic, educational responses. In January, Richard Boyd Barrett asked Minister Coveney to invite a delegation from the "Gaza parliament" to visit Dail Eireann, and to arrange an all-party delegation to visit the "parliament in Gaza".  There is no "Gaza Parliament" and the Irish Government discourages travel to Gaza for security reasons. In March, Boyd Barrett asked for the Government's views on reports that Israel was responsible for the 2007 bombing of a Syrian nuclear reactor, to be told that given Syria's use of chemical weapons on its own population, the destruction of its nuclear capabilities was not regrettable. Finally, PBPA members asked three times for Israel's diamond industry to be suspended from the Kimberley Process that certifies "conflict-free" diamonds, even though the conflict between Israel and Palestine meets none of the Kimberley definitions.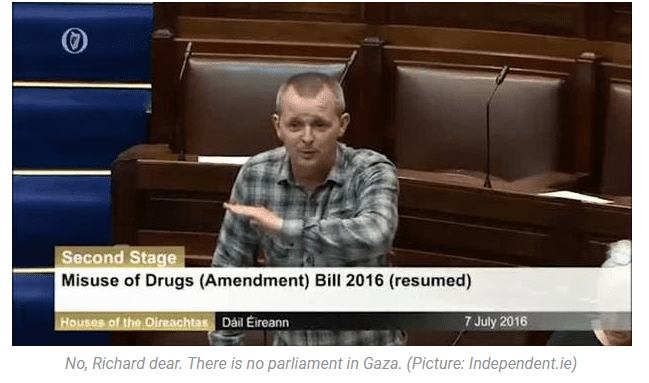 This survey of written questions provides general pointers to the views of Ireland's political parties on the Israel-Palestine situation.  Simon Coveney's responses indicate, as expected:
There are no surprises here although some subjects, such as the PBPA fascination with Israeli diamonds, could bear further inspection.  Fine Gael remains the most Israel-friendly party, Fianna Fail are less friendly (and, outside written questions, have spoken in support of the Frances Black bill). Social Democrats have yet to mark out a position and the further left a party or an independent TD is the more likely they are to support sanctions and boycotts.