DCU Students for Justice in Palestine have successfully campaigned for a referendum to be held on whether "DCU SU should adopt a stance in active solidarity with Palestine by aligning the Union with the Palestinian call for BDS". Voting is due to take place on March 5th to 7th.
In order to demonstrate the true nature of BDS in general, and the attitudes of the leaders of DCU Students for Justice in Palestine, I reviewed the public twitter feeds of DCUSJP Chairperson Stephanie O'Toole and PRO Sami El-Sayed. Both have regularly posted comments calling for an end to the existence of Israel.
Here is a sample from O'Toole's twitter feed, where she writes "in lowercase because all letters are equal in the labour they provide":
El-Sayed, his account so far unedited at the time of writing, similarly tweets against the existence of Israel: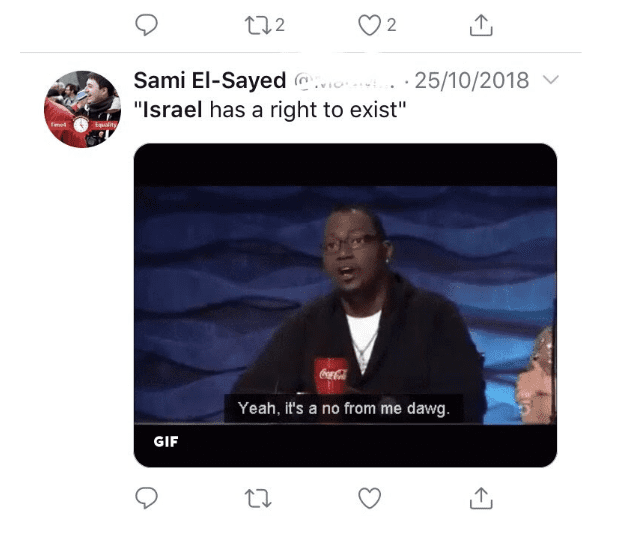 O'Toole also seems keen on physical confrontation with "Zionists" who might consider attending SJP events. Forced to hire security for the SJP launch event in October 2018, she later expressed disappointment that no Zionists showed up, tweeting "update, we didn't get our money's worth".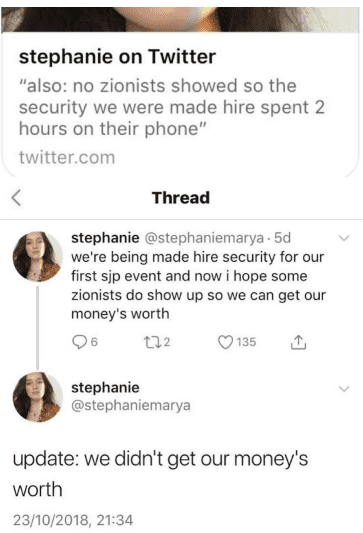 These twitter posts indicate a fundamental truth about the BDS campaign: BDS is less about supporting Palestinians than it is about hating Israel and anyone, Jewish or not, who supports Israel.
The presence on campus of active SJP chapters has been linked in the UK and the US with a noticeable increase in antisemitic incidents. It stifles free speech on anything Israel-related and facilitates the dissemination of often untrue or misleading information about the Israel-Palestine conflict.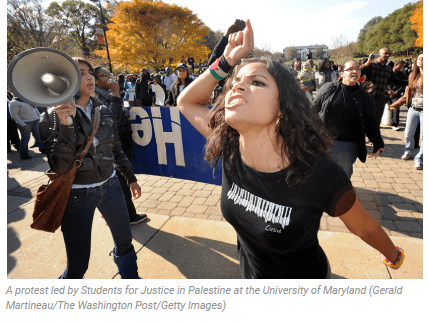 Finally, should the referendum pass DCUSU will be mandated to pressure the University management to sever any links with Israeli institutions and divest from any financial investments, for example through pension funds, in Israeli businesses.
A survey of reports from Irish, British and US educational institutions shows that BDS votes by student bodies are not adopted by university managements. In other words, a BDS vote may give some students a warm glow, but it's unlikely to have any impact on the University's dealings with Israel.
The BDS campaign is hostile, un-academic and of no benefit to the Palestinians it pretends to support. It encourages Palestinians to expect Israeli concessions without requiring a reduction in Palestinian terrorism. BDS, particularly the demand for an academic boycott, runs counter to the principles of academic freedom. It has no place on an intelligent university campus.
(Submitted by Teresa Trainor, BA (Hons) TCD, Jewish & Islamic Civilisations and French, 2017)
Teresa Trainor is a co-founder of Alumni for Campus Freedom Ireland(ACFI), an association of alumni from across Ireland. ACFI opposes BDS, and especially the academic boycott of Israel, in third level institutions in Ireland. It also aims to support the administrations of those institutions in making a case against BDS, and to provide truthful information and encourage informed debate on Israel-Palestine issues and the true nature of the BDS campaign.