Since the founding of the Black Lives Matter (BLM) movement in 2013, the delegitimisation network against Israel and its activists have embarked on a propaganda campaign that draws parallels between police violence in the U.S. against African Americans and violence against Palestinians by the Israel Police and the Israel Defense Forces (IDF). This fictitious parallel is part of a strategic attempt by anti-Israel activists to entrench itself and the BDS movement as a focal point of the progressive movement. 
The concept of 'intersectionality' posits that no form of discrimination is distinct from another. This includes discrimination that emanates from capitalism, white supremacy, government, prison and justice systems, the police force, colonialism, gender hetero-normativity and other institutionalised norms. Following the tragic killing of George Floyd, delegitimisation activists immediately began drawing comparisons with what they describe as systematic and deadly Israeli brutality against Palestinians. The comparisons were given further impetus in the wake of the May 30th killing of Iyad Halak, an autistic Palestinian from East Jerusalem, by Israeli police in Jerusalem's Old City. The image below, typifying the campaign, depicts a photo-shopped image of George Floyd on a section of the West Bank security barrier. 

As seen in the following screenshots, intersectionality not only seeks to absorb all minority issues under the same umbrella, but it also seeks to depict the U.S. and Israel as one and the same, going so far as even changing the colours of the American flag to match those of the Israeli flag. The translation of the tweet on the right reads "The lives of blacks are important. The lives of the Palestinians are important to George Floyd. Iyad Halak, no to the American Zionist racial strangulation."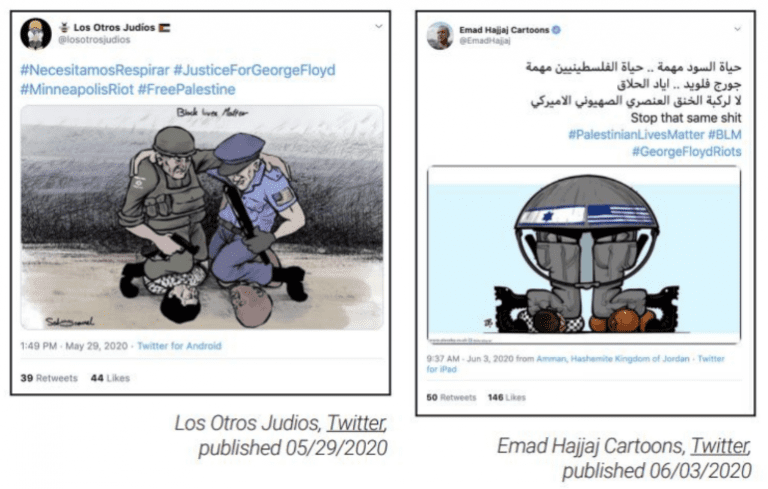 Several anti-Israel groups have also used violent terms such as "Intifada" (Arabic for uprising) to the current eruption of protests in the wake of George Floyd's killing. This is very concerning, as the term Intifada was the name given to the first and second wave of violent Palestinian riots in the late 1980s and early 2000s, which witnessed daily terror attacks, including suicide bombings, stabbings and shootings against Israeli civilians, claiming thousands of lives. 
Since 2017, Jewish Voice for Peace (JVP) and other delegitimisation groups have participated in a campaign known as "Deadly Exchange." The campaign accuses Israel of exporting police brutality to U.S. law enforcement via educational trips to Israel and domestic conferences with Israeli partners. 
Since George Floyd's death, anti-Israel activists have used the same campaign rhetoric claiming that Israel participates in a "deadly exchange" of skills and technology with Minnesota police – a claim that is often made without supporting evidence. According to these groups, therefore, Israel bears partial responsibility for Floyd's death and other cases of police violence against black Americans.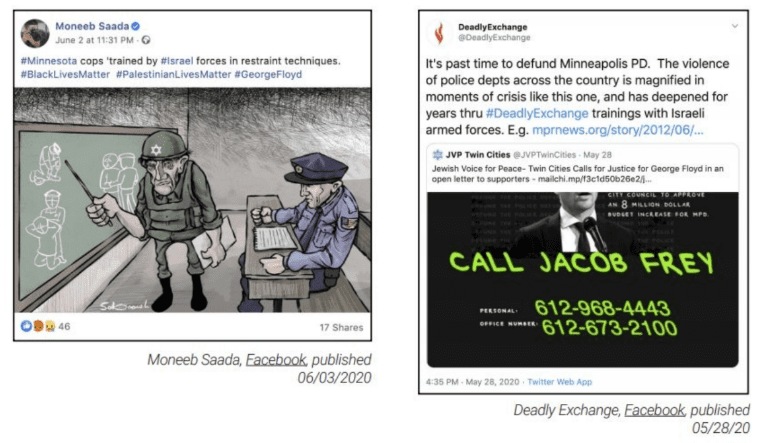 The only evidence of Israel-Minnesota police cooperation is a half-day counter-terrorism training conference held in June 2012 and sponsored by the Israeli consulate in Chicago, the FBI, and Minnesota police. The conference was attended by no more than 100 officers from across the state. 
The hashtag #PalestinianLivesMatter, inspired by #BlackLivesMatter, has been employed by anti-Israel activists on Twitter since at least 2015. This hashtag's popularity surged following the killing of George Floyd as BLM protests gained momentum in the US. Many DLG activists campaigned to highlight intersectional parallels between African American and Palestinian causes, once again reviving this hashtag. Usage of #PalestinianLivesMatter on Twitter grew exponentially from May 28-30, 2020 and the hashtag #PalestinianLivesMatter was also highly visible to Twitter users from June 2-3, reaching an estimated 29.4 million users in this 24-hour period. 
Al Jazeera's Arabic channel Aljazeera Mubashar posted the hashtag on June 3rd to its Facebook page, which is followed by 14 million accounts, and to its Twitter account, which is followed by 4 million Twitter users. On June 3rd the most shared tweets with #PalestinianLivesMatter came from Venezuelan propaganda network Telesur English (@telesurenglish) and Lebanese journalist Claude El Khal (claudeelkhal).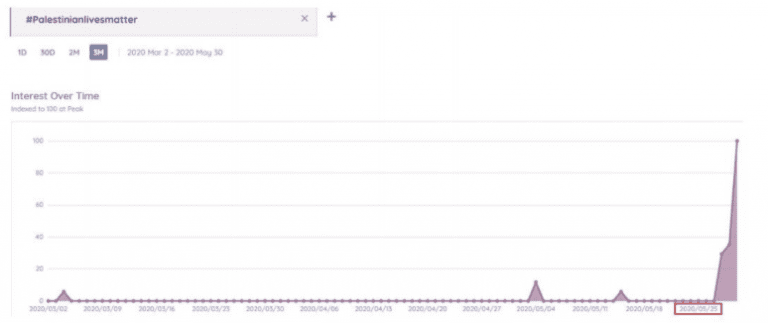 On May 30th, as protests against Floyd's killing swept Los Angeles, protestors graffitied "F-ck Israel, Free Palestine" on the wall of one synagogue, and vandalized and smashed windows of several other synagogues and kosher businesses. The protests have also led to numerous antisemitic posts on social media. On May 31, the window of a synagogue in Richmond, Virginia was smashed by protestors. Berlin-based artist Ehssan Dariani posted to Facebook a conspiracy allegation that matched Type 2 of the IHRA working definition of antisemitism by "Making mendacious, dehumanising, demonising, or stereotypical allegations about Jews as such or the power of Jews as collective — such as, especially but not exclusively, the myth about a world Jewish conspiracy or of Jews controlling the media, economy, government or other societal institutions." According to Dariani's post AIPAC and Sheldon Adelson were responsible for the conditions that sparked the riots.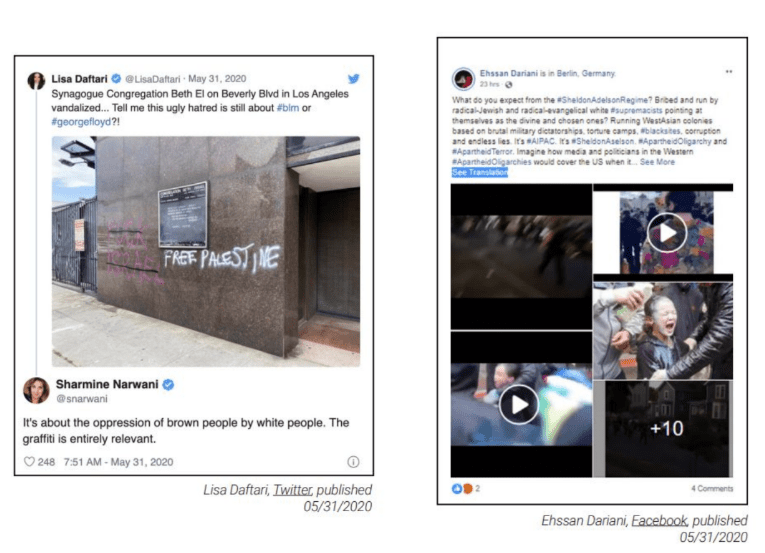 Andrew Anglin, founder of the Neo-Nazi website Daily Stormer wrote in a blog post about the protests, saying "Fear not the blacks who can burn your city, but fear the Jews who can release the blacks to burn your city and lock you in your house in hell." 
Counter protestors at a June 3rd demonstration in Bismarck, North Dakota flew a Nazi flag from their car. Meanwhile, in Minneapolis, a bench outside the city's Shir Tikva synagogue was defaced with swastikas, while "Seig Heil, Heil Hitler, Trump 2020" was written on a traffic utility case across the street from the synagogue. 
This shameless hijacking of the protests against George Floyd's tragic death in the U.S. is far from a new phenomenon, rather just the latest in a long line of events that have been used to attack both Jews and the State of Israel.