Supreme Court accepts the State's position:"There was no fault in the Interior Minister's decision not to renew Shakir's residency permit in Israel."
Today, November 5, 2019, Israel's Supreme Court ruled today to uphold Israel's District Court to not grant a renewal of visa to Omar Shakir, boycott activist and Human Rights Watch director for Israel and PA since October 2016, and ordered him to leave Israel within 20 days.
The Supreme Court accepted the position of Interior Minister Aryeh Deri and Minister of Strategic Affairs Gilad Erdan, in accordance with the amendment to the Entry into Israel Law, stating that Shakir's stay in Israel should not be approved in light of his activities which include the promotion of BDS against the State of Israel.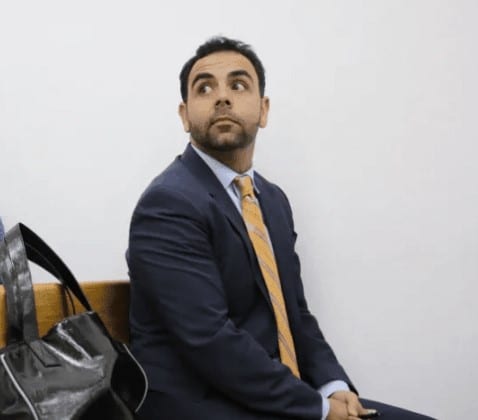 Shakir's appeal to the Supreme Court followed an earlier ruling by the Jerusalem District Court (April 16, 2019) which found Shakir to be a boycott activist who meets the criteria set in the Entry into Israel Law. The District court ruled:
"Not only was there systematic support for BDS which continued after he began his work for the organization [HRW], his conduct surrounding FIFA, as well as his repeated calls for boycotting Israeli assets in the region, is based on a sweeping denial of the legitimacy … After examining [Shakir's] actions and statements, they have led to the conclusion that not only did he not prove that he had abandoned his calls for a boycott of Israel, but has continued to carry out his agenda as evident from his actions and statements. Since being allowed to enter the country, the justification surrounding the accusations against the petitioner regarding exploiting his stay in the country have been shown true. The petitioner continues to publicly call for a boycott against the State of Israel or parts of it, and in the same breath, requests Israel open its doors to him. "
Minister for Strategic Affairs Gilad Erdan said: "I applaud the decision of the Supreme Court that accepted my Ministry and the Interior Minister's position that a work visa should not be given to a foreign boycott activist who wants to harm Israel and its citizens. Omar Shakir is a BDS activist who took advantage of his stay in Israel to harm it, something no sane country would allow. Israel sees great importance in the activities of real human rights organizations, granting hundreds of visas every year to human rights activists. HRW is welcome to appoint another representative in Israel place of Shakir if it chooses to do so."
Before joining HRW while a student at Stanford, Shakir set up an organization calling for boycotts and divestments against the State of Israel. Over the years he has consistently called for support for BDS in conferences and discussions, and was a signatory on a petition to prevent a Muslim delegation from visiting Israel.
After joining HRW and entering Israel, he continued to promote boycotts as through comments on his personal Twitter account. He was personally involved in the campaign against FIFA, alongside BDS NGOs and Jabril Rajoub (who is now suspended from FIFA), to ban Israeli teams from Samaria and Judea. Shakir also traveled to Bahrain to pressure FIFA to comply with their demands.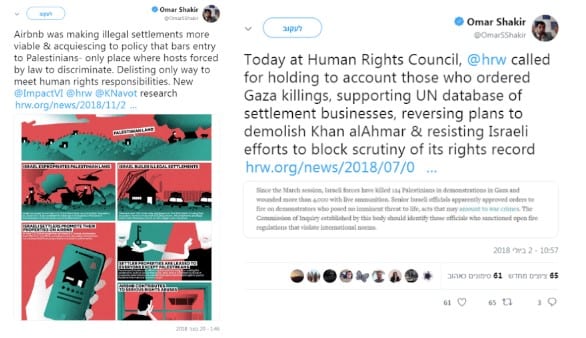 Examples illustrating Shakir's promotion of boycotts against Israel:
Shakir in an interview with the online Arabic newspaper "East and West" (May 10, 2019): "… As part of our international work related to commercial companies and human rights, we call on companies to stop taking part in activities that violate rights … to stop their work in the settlements … "Yes, we also support the individual's right to call for a boycott, as part of the nonviolent freedom of expression."
While commenting on a report on Israel's banking activity in Judea and Samaria, Shakir called on investors to, "ensure that their business do not contribute to serious violations of human rights or of international humanitarian law." In a France24 interview, Shakir was asked about HRW's activities against Judea and Samarian communities (April 17, 2019): "We prepared a report on Israeli banks, and on the issue of FIFA, and we ask all private companies to stop working inside the settlements because it causes serious rights violation against Palestinians in the West Bank ".
Shakir welcomed Airbnb's decision to remove listings in Judea and Samaria and called on other companies to follow suit (Above left, picture #1 from Twitter, November 2018.) In an interview with the Arab-Israeli Musawa channel on the issue of Airbnb Shakir stated (November 22, 2018): "Every private company around the world has responsibility to international law and a commitment to international agreements … The involvement of companies inside the settlements is a violation of international law and therefore we asked them to withdraw from the settlements … We must continue with the pressure on Booking.com and other private companies operating within the settlements. "
Shakir commented on Twitter regarding HRW's activities with the High Commissioner of the UN Human Rights Council, stressing the urgent need to publish a UN database that includes names of international and Israeli companies operating in Judea and Samaria (Picture 2, above right).