The GAA has strict rules against its games being used for political purposes. Everyone accepts that - except for Sinn Féin.
On the face of it, the only thing that was remarkable about the story from last weekend was that someone had to be arrested at a GAA match. Opposing fans mix freely, there is no segregation and the worst you'll see is some banter between the supporters. On this occasion, at a match in Navan, some of the Tyrone fans were waving large flags that were blocking the view of Meath supporters and wouldn't take them down, even when the Gardai intervened.
One of the Tyrone fans got so abusive that he had to be detained and cautioned at the local Garda station. That should have been the end of the story. It's basic courtesy to other fans not to block their view of the game. However, then Sinn Féin got involved. Why? Because the large flags blocking the views of other supporters were Palestinian flags.
Palestinian flags? At a match between Meath and Tyrone? Yes, you read that correctly. Don't bother asking. The answer will be some vague mumbling about "solidarity". Claiming – falsely – that the fan had been arrested just because he had a Palestinian flag, the Sinn Féiners launched a petition calling on the GAA to "repeal the ban on Palestinian flags at GAA games".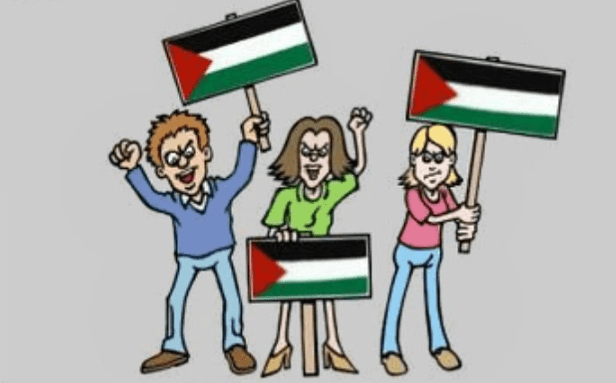 The future of GAA matches – if the Sinn Féiners have their way
The GAA has a very strict and entirely correct stance on the use of its matches for the display of political symbols.
In the run up to the same sex marriage referendum in 2015, it even prevented a referee from wearing a small gay pride wristband in one game. The wristband would only have been visible from within a couple of metres but rules are rules.
For now, Sinn Féin's stunt has backfired badly. Tyrone's social media manager (also a "prominent Palestinian campaigner" and "an honorary Palestinian citizen") has been fired by the GAA. This is apparently in response to previous incidents at other matches involving Tyrone.
Where would it have ended? Could pro-Israel supporters have turned up waving Israeli flags? If not, then the GAA would clearly be seen to be taking sides. If so, then why not others waving flags of the Basque Country, Catalunya, Kosovo, Kashmir, Kurdistan, Tibet, Western Sahara etc.? Real GAA supporters go to a match to see a contest between two teams, not to see a political rally or to see others hijack it for their own narrow ideological ends.
But, of course, Sinn Féin's petition was only about Palestinian flags because that party's sense of entitlement leads it to believe that only its political agenda counts, and no-one else's. They've been given a richly deserved put down and hopefully will learn their lesson. GAA matches are for everyone, not just Sinn Féiners.