On 28 March 2023, John Brady, Sinn Féin TD for Wicklow, introduced his Illegal Israeli Settlements Divestment Bill 2023 to the Dáil. It is intended to prevent investment by the National Treasury Management Agency's Ireland Strategic Investment Fund (ISIF) in "undertakings which appear on the UN Database of companies operating in illegal Israeli settlements on Palestinian land"
Leaving aside arguments about the legality of Israeli settlements, the basis for Brady's intervention is seriously flawed.
In the April edition of Sinn Féin's "International Bulletin", Brady claims:
 "The ISIF has invested Irish taxpayers' money in nine companies operating within Israel's illegal settlements in the occupied Palestinian territories.
It is important to note that ISIF investments include four Israeli banks…"
Page 224 of the National Treasury Management Agency's 2021 Annual Report does indeed list equity investments in 9 Israeli quoted companies, worth a total of €1.19 million – representing a whopping 0.01% of ISIF's total equity investments of €799 million.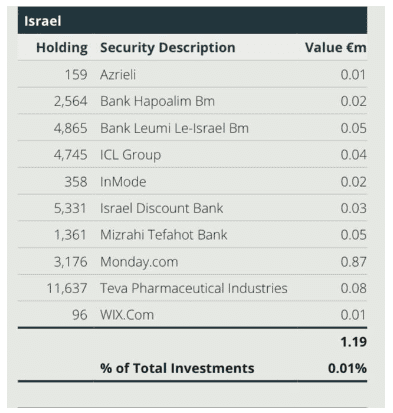 However, someone didn't do their research. Of these Israeli companies, ONLY the banks are included on the United Nations database. That's €150,000 worth of investments. The other companies do not operate in the so-called "occupied territories".
This demonstrates several things.
First, John Brady needs better researchers. The NTMA Annual Report and the UN Database are freely available online, and cross-checking between them is not difficult. 
Second, there is no limit to the pettiness of anti-Israel activity – even if all 9 companies listed by the ISIF traded in the territories, the value of the ISIF investment is minuscule. This Bill is an excellent example of the sort of reflexive anti-Israel action that does nothing to resolve the conflict or make Palestinian lives better in any way.
Is this a predictor of Sinn Féin's approach to government – slapdash research and petty legislation? Israel is a topic Sinn Féin obsesses over. If they can't even get this right, how badly will they handle something more complicated?
Having done the work, I noted one or two other ISIF  investments in non-Israeli companies which are included in the UN database. I won't disclose them here, Sinn Féin researchers need the practice!