During the week of 16-23 April, which marked both the observance of Palestinian Prisoner's Day in anti-Israel delegitimisation networks, and Holocaust Remembrance Day (Yom HaShoah) in Jewish and pro-Israel forums, there was an upsurge in online global antisemitism tying Israel and Jews to the Coronavirus.
Like during times of other global pandemics and catastrophes, Jews have been scapegoated and blamed for spreading the virus, they have been characterised as the virus itself, or antisemitic tropes have been employed accusing Jews of creating the virus for economic gain.
This classical antisemitism has been accompanied by modern anti-Israel antisemitism, applying these same antisemitic tropes to Israel across extremist and delegitimisation networks.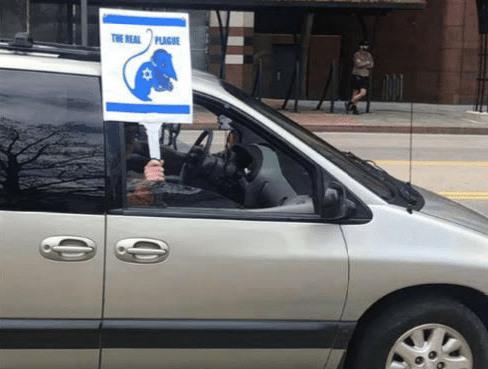 Abuse of Holocaust Remembrance
On Yom HaShoah, observed from 20-21 April, delegitimisation actors and white supremacists employed vitriolic antisemitic hatred, abusing digital mediums used to host online gatherings during the corona crisis.
An online Holocaust Remembrance Day event held by the Israeli embassy in Germany had to be suspended after antisemitic trolls disrupted the testimony of a Holocaust survivor, employing "zoombombing" tactics. Anonymous participants displayed pictures of Adolf Hitler and shouted antisemitic and pro-Palestinian slogans.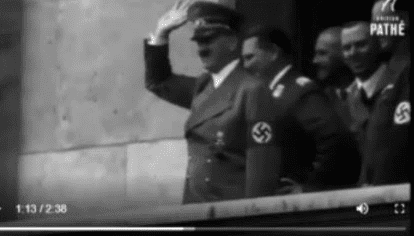 On April 20, 2020 the Popular Struggle Coordination Committees (PSCC) Facebook announced an event to be held across Italy marking Italy's independence from fascist and Nazi occupation, tying it to "the occupation and colonization of Palestine."
On the evening of Yom HaShoah, the BDS National Committee (BNC) released a fact sheet "Coronavirus Under Israeli Apartheid" decrying Israel as an apartheid system, systematically disseminating racism throughout the corona crisis and drawing parallels between the struggle of the Palestinian people to treatment of African-Americans in U.S. medical facilities.
On Yom HaShoah the organisation 'Women for Palestine' tweeted visuals comparing the growth of a Jewish presence in Israel to the spread of coronavirus in lungs, claiming that Palestine was "whitewashed" by Israel.
View the page here: https://twitter.com/WomenForPal/status/1252693562673770497
(Women for Palestine, Twitter, published on 21/4/2020)
The Antisemitic #COVID48 Twitter Campaign
Numerous Twitter accounts from the Arab world (namely, Jordan) employed the hashtag #COVID48, urging Twitter users to tweet using the hashtag at 7 PM on April 20th. This planned twitterstorm coincided with the start of Yom HaShoah when many pro-Israel Twitter users participated in online memorial events.
Many Twitter users employing the hashtag tweeted images and cartoons replete with antisemitic conspiracies, including comparing Israel to Nazi Germany, the characterisation of Israel as COVID-19, and that Israel and the US created the virus for financial gain:
https://twitter.com/Mohamma96336780/status/1252266016807227392
(Mohammad Mazen, Twitter, published on 20/4/2020)
https://twitter.com/Malek_Abuserhan/status/1252182723575181312
(Malek Mohammad, Twitter, published on 20/4/2020 Translation from Arabic: Epidemic is the only occupation.)
https://twitter.com/ayaamine__/status/1252352217870249997
(Jerusalem is the capital of Palestine, Twitter, published on 21/4/2020).
Research suggests that the #COVID48 twitterstorm originated from a particular Facebook event, complete with full campaign agenda from April 17-22 to mark Palestinian Prisoner's Day. The campaign appears to have been coordinated by a group called "The Children of the Refugee Camps – The Jordanian Group" which has since been suspended by Twitter.
Of roughly 1,000 Tweets sampled from the last 15 hours at the time of the release of this report, #COVID48 had a reach of over 500,000 accounts with an impression count of over 1 million, with its largest impression bases in the US and Jordan.
Hashtag analysis and tweet impact for #COVID48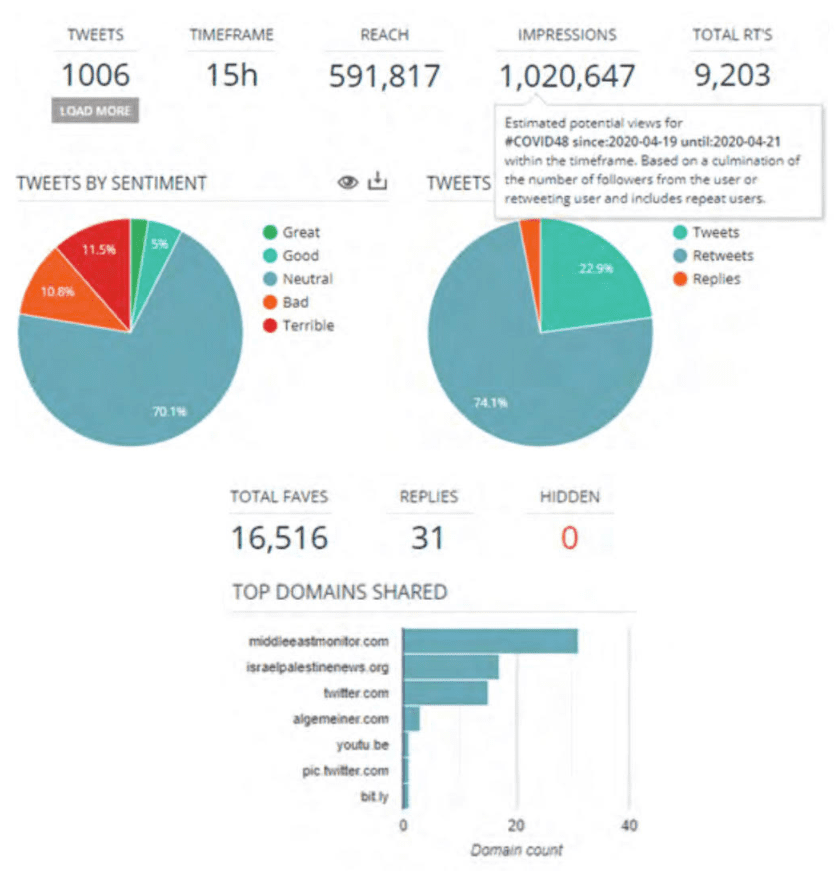 Palestinian Prisoner's Day Antisemitism
Several well-known NGOs in the DLG such as Addameer, Palestinian Youth Movement-USA (PYM-USA), and NY4Palestine participated in activities for Palestinian Prisoner's Day, held on 17 April 2020. Several posted antisemitic content on their social media, including the conspiracy that Israel is purposely infecting Palestinian prisoners with COVID-19, though no Palestinians in Israeli prisoners have tested positive for the virus. Check out the links here:
https://twitter.com/PYM_USA/status/1251224223311421440 PYM-USA, Twitter, published on 17/4/2020
https://twitter.com/Addameer/status/1251069277236576256 Adameer, Twitter, published 17/4/20
https://www.facebook.com/watch/?v=575642909713583 "Despite the pandemic, detainees are still subject to daily searches by an increasing number of jailers who have tested positive for Covid-19"
In an 19 April 2020 NY4Palestine webinar "Freedom for all Palestinian Prisoners," Samidoun Palestinian Branch Organizer Hadeel Shakara stated that Israel is attempting to purposely infect prisoners with COVID-19. According to Shakara, "The strategy of the Zionist administration, actually we have a fear of using these prisons as science lab or medical labs, this is a fear we have because crime and violence against the prisoners is well known…we have all the doubts in the Zionist administration….They're doing this on purpose yes and they're not taking any precautions because to them the prisoners are the leaders of Palestine, the real leaders, the people who take action to liberate Palestine so all these moves are intentional and they're doing it on purpose. Yes we believe that and we know that from the history, its been happening all over the history and its not something new for the Zionist administration."
UK based Sheffield Hallam Palestine Society released a video on 18 April 2020 "#WeAreWithYou: Sheffield Students Mark Palestinian Prisoners' Day" on its Facebook. In the video, one student claimed "Despite the pandemic, detainees are still subject to daily searches by an increasing number of jailers who have tested positive for COVID-19." (see picture above)
On 20 April Jewish Voice for Peace (JVP) tweeted a quote from former Palestinian political prisoner Sami Mohammed comparing Israel to a virus, ""The social solidarity we witness nowadays due to the corona pandemic reminds me of the First Intifada when Palestinians were united to resist the other heavy virus."
Antisemitism in Hate Forums
Hate forums, both on the far right and far left have also employed high levels of COVID-19 antisemitism.
A user on Stormfront, one of the oldest online neo-Nazi forums, criticized Ivanka Trump for not following COVID19 lockdown policy in order to have Passover seder with her family. The user further used the opportunity to suggest that Ivanka Trump would "sacrifice goy babies" in reference to the classic anti-Semitic Passover blood libel:
An antisemitic user on the YouTube alternative platform, BitChute, published a series of videos featuring different anti-Semitic conspiracy theories related to the coronavirus pandemic. The user, linked below has over 250 subscribers but has reached upwards of 50,000 views of all of his videos. The user publishes namely in English and Russian and is therefore believed to be located in either Russia or the United States.