Why it is so important to speak up
As you are no doubt aware, the Ireland Israel Alliance has fought long and hard throughout 2018/19 to stop the Control of Economic Activity (Occupied Territories) Bill from becoming law. 
The Bill is now effectively dead! However, until we know the composition of the next Irish government, we will not know whether it will be resurrected and go through the whole painful process again.
Meanwhile, antisemitism and physical attacks against Jews are rising around the world, much of it because of rhetoric spread by politicians and the media, often under the guise of anti-Zionism.
Now is your chance to speak to the candidates as they knock on your door in the coming weeks. Please engage them in conversation and ask them the questions below.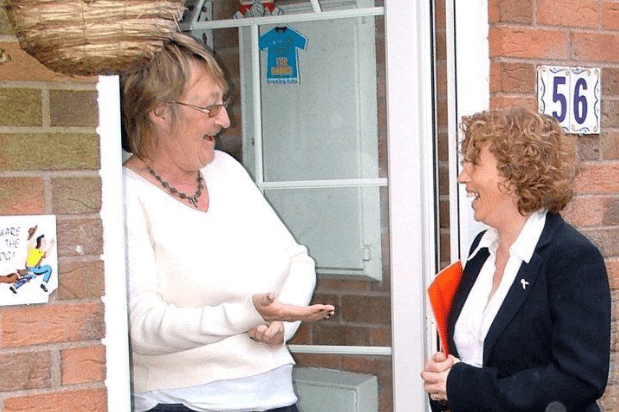 Political canvassers will be coming to your door (Source: Journalists Resource)
Let them know that there is widespread support for Israel in Ireland and also for a peaceful resolution between Israel and the Palestinians; boycotts, which have been used against Israel since before its formation, are not the answer! They do not work, have never worked and serve only to seek to defame and delegitimise the world's only Jewish state.
Immoral, Discriminatory, Divisive, Illegal
Do they support an immoral, discriminatory, divisive and illegal "Occupied Territories" Bill that targets only Israel and ignores other disputed territories such as Turkey in Northern Cyprus, Morocco in Western Sahara, Armenia in Nagorno-Karabakh, Russia in parts of Georgia and Ukraine?
Damaging to Irish - US trade relations
Are they in favour of promoting an illegal Bill that Ireland's own Attorney General, the EU Commissioner and Tánaiste Simon Coveney have said would be in breach of EU law? The Bill, if passed, is likely to result in long drawn out legal battles; expensive, time-consuming and unhelpful to the Israel-Palestine peace process.
Are they in favour of promoting a Bill that would also be contrary to robust United States anti-boycott legislation; that would compromise United States companies trading in Ireland such as Google, Facebook, Twitter and AirBnB, essentially forcing American businesses to choose between dealing with Israel or dealing with Ireland?
Depriving us of our Religious Freedoms
Do they realise that Israeli carrier EL AL will be operating direct flights between Dublin and Tel Aviv from May 2020, resulting in increased traffic between Ireland and Israel? 
Are they concerned that more and more Irish citizens, as tourists in Jerusalem, could be prosecuted, fined and imprisoned for buying a souvenir from a Jewish owned shop or taking a tour with a Jewish tour company?
Please watch our video below and share widely:
"Occupied Territories" Bill Holds the Power to Deprive Millions of their Freedom of Religion
Damaging for Palestinians
Do they support a Bill that would cause job losses to at least 35,000 Palestinians in businesses that provide better pay and conditions than are available anywhere else in the West Bank? These businesses provide an almost unique opportunity for Israelis and Palestinians to work together, fostering mutual understanding and furthering the possibility of peaceful coexistence.
Removing Ireland as a Contributor to the Peace Process
Do they support a Bill that will polarise communities, discourage grass roots dialogue and trust building, and remove Ireland as a contributor to the peace process?
Please use this opportunity to speak up!