The Ireland Israel Alliance has delivered a detailed submission today to the Joint Committee on Foreign Affairs and Trade regarding a boycott Bill that was introduced by Senator Frances Black, otherwise known as The Control of Economic Activity (Occupied Territories) Bill. The Bill would make it a criminal offence for Irish citizens to purchase goods or services from Jewish businesses in parts of Jerusalem and the West Bank, resulting in a prison term of up to 5 years and fines of up to €250,000.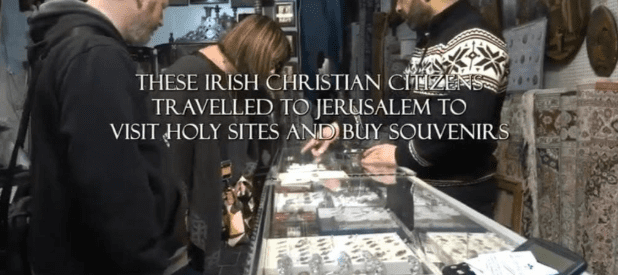 Jackie Goodall, Executive Director of the Ireland Israel Alliance stated: "I don't think people realise the full extent of what this Bill would mean for Irish citizens, especially Christian pilgrims visiting the Holy Land. If this Bill is passed into law, buying a souvenir from a Jewish trader or taking a tour with a Jewish tour guide could land you with a criminal record and punishments befitting that of a class A drugs smuggler, or worse. That is how draconian this Bill is".
The submission makes a number of important points which have not been effectively addressed in debates on the Bill so far, and it is backed by numerous annexes. These points and annexes include:
The submission includes a video produced by the Ireland Israel Alliance together with the International Legal Forum, showing the impact the Bill would have for Irish citizens/pilgrims visiting Jerusalem
Israeli businesses in the West Bank employ over 30,000 Palestinians. They receive much higher salaries than they would obtain in the Palestinian Authority. Overall, it is estimated that these salaries likely support over 300,000 Palestinians. The annexes include a book of essays by both Palestinians and Israelis working peacefully and productively side-by-side in these businesses.
An annex by The Lawfare Project of New York draws attention to potentially huge losses of US tax benefits for US companies with subsidiaries in Ireland, if the Bill is passed into law. This could potentially lead to major US companies pulling out of Ireland, and for other companies who were considering relocating, to not do so.
The submission highlights the hypocrisy of this Bill in targeting only Israeli businesses operating in the disputed territory of the West Bank. Annexed research by the Kohelet Policy Forum in Israel identifies the operations of international companies in occupied territories around the world, and investments in these companies by the Irish government and leading Irish institutions.
The submission points out that in terms of Brexit, the avoidance of regulatory divergence between Northern Ireland and the Republic could be compromised if the Irish government passes into law a Bill that creates regulatory divergence by banning in the Republic, what is legal in Northern Ireland.
The Bill contradicts a recent resolution of the German Parliament, supported by all parties except the far left and the far right, that rightly recognises the antisemitic methods and arguments of the BDS movement.
UK Lawyers for Israel assisted the Ireland Israel Alliance in the preparation of the submission.