*Unless Israel is to blame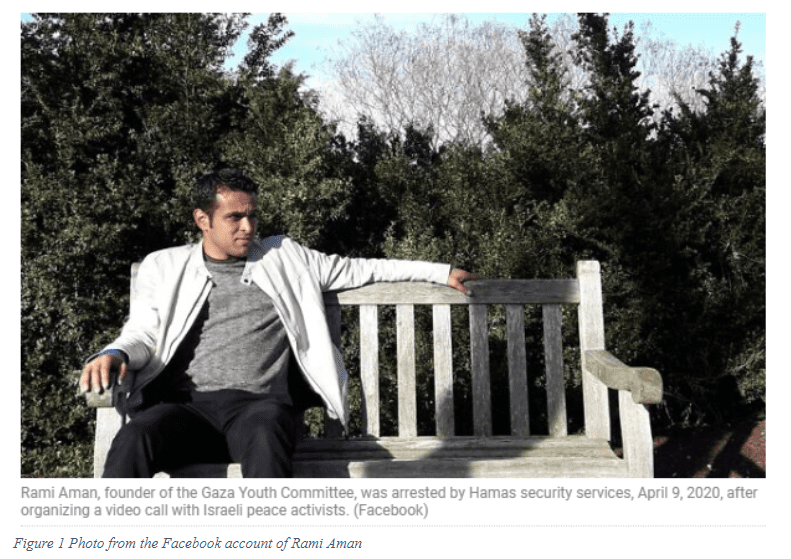 In March 2019 Brett Stephens wrote an op-ed in the New York Times headed "Palestinian Lives Don't Matter* – *Unless Israel is to blame." to highlight the lack of Western media coverage of protests by Palestinians in Gaza against Hamas's economic mismanagement and corruption, and its brutal suppression of those protests.
On Thursday 6 August as part of an international campaign, the Ireland Palestine Solidarity Campaign (IPSC) protested outside Leinster House in Dublin calling for the release of Mahmoud Nawajaa (33), the general co-ordinator of the Palestinian Boycott, Divestment and Sanctions National Committee (PNC), who was arrested by Israeli forces a week earlier and has since been detained without charge. The IPSC and the Irish Congress of Trade Unions (ICTU) have called for his release, referring to him as a "human rights defender" and leader of the "peaceful" BDS movement.
Mr. Nawajaa's social media record does not support his alleged reputation as a human rights defender. In April 2020, a Gazan peace campaigner named Rami Aman, the founder of the Gaza Youth Committee and five other members were arrested by Hamas for participation in a Zoom call with Israelis. The Gaza Youth Committee promotes peace with Israel and has been running "Skype with your enemy" calls since 2014 to encourage direct dialogue with Israelis. Rami Aman has not been seen since his arrest on charges of "treason and normalisation". Mr Nawajaa's reaction? He has condemned Rami Aman and claimed that his portrayal as an innocent peace activist is a ploy by a dishonest Zionist lobby: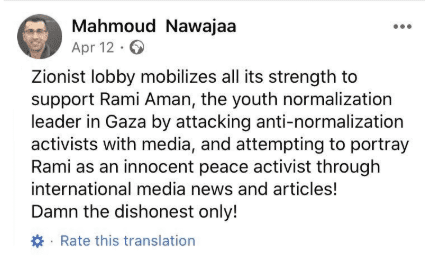 Needless to say, the IPSC and the ICTU have so far failed to demand that Hamas release Rami Aman. And while Amnesty International has already joined in calls for the release of Mahmoud Nawajaa, it took them two months to condemn the imprisonment of Rami Aman, despite the fact that it was a former Amnesty worker in Gaza who drew Hamas's attention to his peace-making Zoom calls.
Mahmoud Nawajaa was named in "Terrorists in Suits", the Israeli Government report on the deep link between designated Palestinian terror organizations Hamas and the Popular Front for the Liberation of Palestine, and anti-Israel NGOs promoting boycott, divestment and sanctions (BDS) of Israel. In December 2018, Nawajaa wrote a Facebook post praising Ashraf Naalwa, a Palestinian terrorist, and criticising Ashraf al-Ajrami, a former Minister for Prisoners' Affairs in the Palestinian Authority who has appeared on Israeli television and argued for a two state solution and a diplomatic process to achieve peace in Israel and Palestine.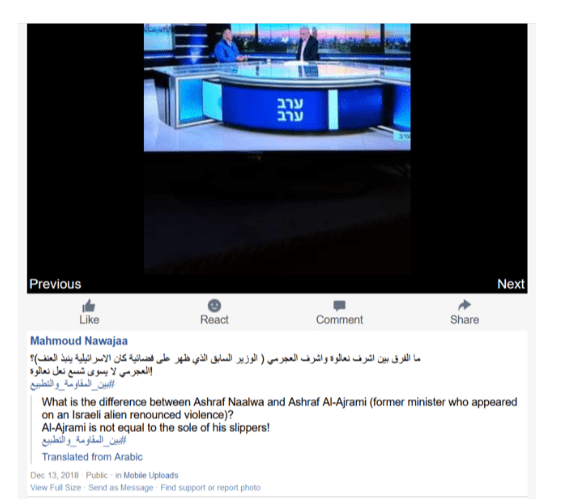 Ashraf Naalwa was the perpetrator of an attack on the business that employed him in the Barkan Industrial Park in the West Bank/Judea & Samaria in October 2018. Naalwa murdered two Israeli civilians and injured another. Earlier in his career, Mr Nawajaa also shared a video glorifying Hamas terrorists in training: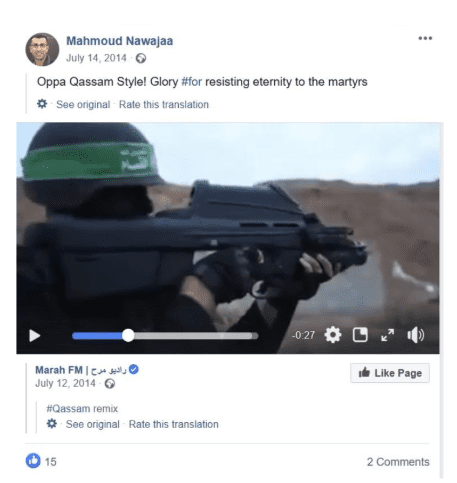 This is the "peaceful BDS campaigner" who has been the subject of international protests this week. Meanwhile Rami Aman languishes ignored – or perhaps tortured – in a Hamas cell, with no pro-Palestine activists or Western media calling for his release. As Brett Stephens wrote last year, "A world that shrugs at Hamas's abuse of its own people merely licenses the abuse to continue, unchecked."