Jews lived in Judea & Samaria for 3,000 years until Jordan illegally occupied it in 1948 destroying all Jewish quarters and villages and ethnically cleansing it of Jews.
When Israel returned to Judea & Samaria in 1967, it was able to resettle Jews in the region, effectively cancelling out the ethnic cleansing crime that Jordan committed 19 years earlier.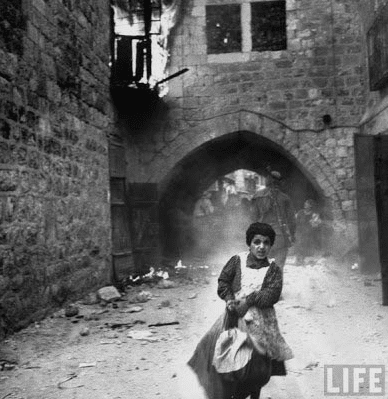 Jewish girl, Rachel Levy, 7, fleeing from street with burning buildings. as the Arabs sack Jerusalem after its surrender.
May 28, 1948 (Source: Life Magazine)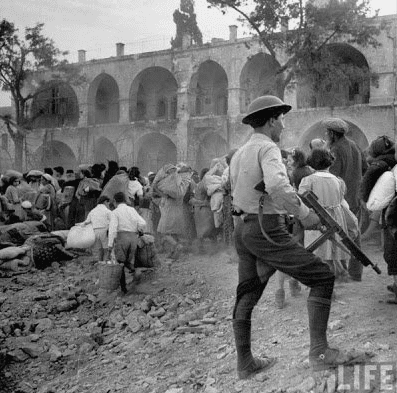 Jewish families being evacuated from city. June 1948 (Source: Life Magazine)
The Old City of Jerusalem was first inhabited by Jews about 3,000-3,200 years ago, in the 12th to 10th Centuries BCE, when it was conquered by King David, according to the Bible. Jews lived in the city through the centuries, as it passed from one ruler to another, returning to Jerusalem again and again after periods of expulsions by foreign occupiers, such as the Babylonians, the Romans and the Crusaders. Recent archaeological finds reconfirm Jewish connections with the city ever since ancient history.
The last of these foreign occupiers was Jordan, who in May 1948 invaded Israel alongside the armies of 5 other Arab countries. The Jewish Quarter of Jerusalem's Old City had been under attack by Arab irregulars for many months. Following the invasion by the Transjordanian Arab Legion, pressure increased. A tiny Haganah force tried to defend the 2,000 inhabitants of the Jewish quarter, who remained from the Jewish community of 5,000 after many fled in the Arab pogroms of 1936. The commander of the Transjordan Legion, expelled the Jewish civilians to West Jerusalem, taking the Israeli defenders prisoner.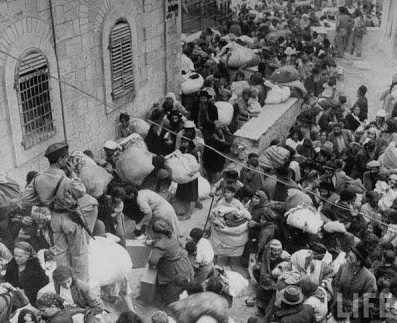 Jewish families leaving the old city through Zion's Gate – June 1948 (Source: Life Magazine)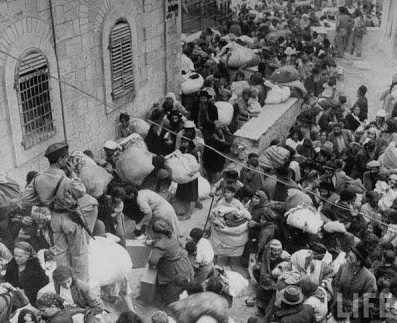 Jewish people attempting to leave portion of city surrendered to Arab forces. Jerusalem, Israel – June 1948 (Source: Life Magazine)
The village of Silwan located south-east of the Old City of Jerusalem, was home to several hundreds of Jews since the 1870's. Many Jews fled when they were attacked by neighboring Arabs in 1921 and 1929 and the Last Jews were expelled during the "Arab Revolt" riots of 1936-1938 and their property was seized by Arab squatters.
Since 1967, some Jewish property in the Old City, in Silwan and other parts of East Jerusalem was legally reclaimed. Distorted media reports of a "Palestinian Family to be Evicted from their Home for Jewish Settlers" constituting so-called "human rights violations" often refer to such cases.
Jewish history in Hebron started when, according to the Bible, Abraham purchased the field of Ephron, which was in Machpelah, and the cave which was therein, currently known as the Cave of the Patriarchs. In the 11th Century BCE, Hebron was wrested from the Canaanites and became King David's first capital before conquering Jerusalem and moving his capital there. Archeological evidence, such as the King of Hebron seal, and a Hebrew seal and ostracon found in an archaeological excavation at Tel Hebron dated to the 8th century BCE, confirm Jewish presence in the city. Like Jerusalem, Jews came back to the city through the ages, following various expulsions by foreign powers. 
By 1929, the Jewish community of Hebron numbers several hundreds. Then, during the infamous Hebron massacre, Arab rioters slaughtered 67 Jewish men, women and children and wounded 60, and Jewish homes and synagogues were ransacked. The survivors were forced to leave the city. Two years later, 35 families moved back, but in another wave of Arab riots in 1936, the Jewish community was moved out of Hebron by the British with the sole exception of one Jewish family that stayed in the city until 1947 leaving only when war erupted following the UN Partition Plan.
Present-day "settlers" in Hebron live in homes that were owned by Jews before they were expelled in 1929.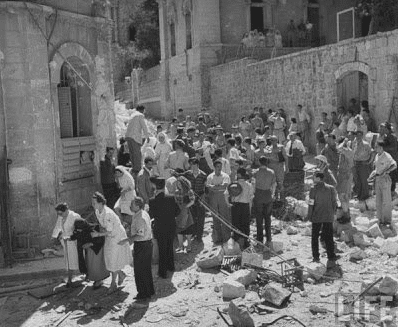 Jewish people attempting to leave portion of city surrendered to Arab forces. Jerusalem, Israel (Source: Life Magazine)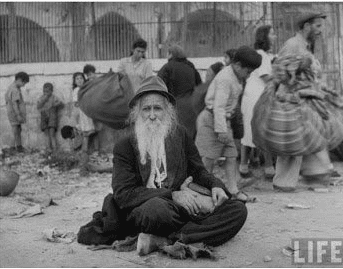 Elderly Jewish man sitting in street after surrender of city. Jerusalem, Israel, June 1948 (Source: Life Magazine)
There were several other Jewish villages before 1948. The Gush Etzion bloc was founded in the 1920s on empty land purchased by Jews. By 1948, the bloc consisted of four villages – Kfar Etzion, Masu'ot Yitzhak, Ein Tzurim and Revadim – numbering 450 residents and stretching over an area of 20,000 dunams.
In May 1948, the Jordanian invaders massacred 127 Jews in Kfar Etzion and all four villages were razed to the ground by the Arab Legion. The Jordanians took the remaining residents as prisoners of war and held them in Jordan for a year before releasing them to Israel, thus cleansing every Jew from the region under their control. Gush Etzion settlements were reestablished on the same land after 1967.
Other Jewish villages in Judea & Samaria suffered the same fate. Residents of Atarot, Kalya and Beit Haarava were forced to leave in 1948 and the villages were resettled after 1967.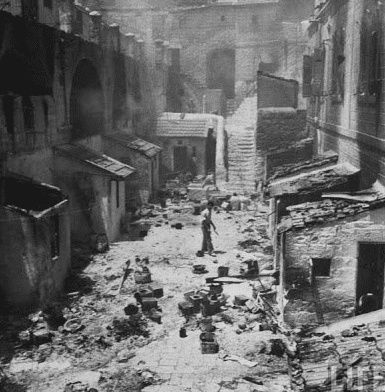 Looting in burning Jerusalem, John Phillips. June 1948
(Source: Life Magazine)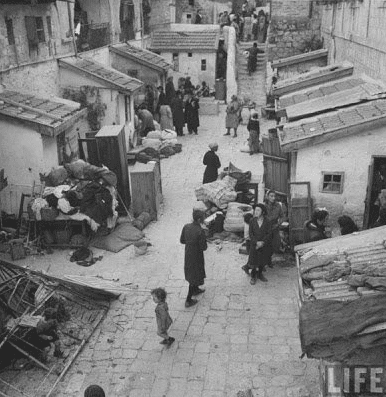 Jewish families waiting outside their homes to be evacuated by Arab troops. Jerusalem, Israel. June 1948 (Source: Life Magazine)
The silence over Jordan's crime of ethic cleansing is deafening, especially given the volume of false accusations levelled at Israel about ethnic cleansing that Israel did not commit. Most Arabs fled Israel following the calls of their leaders. After the 1948 war, many Arabs stayed inside Israel but no Jews stayed inside Jordanian-occupied Judea & Samaria – it was fully ethnically cleansed of Jews.
The 1947 UN Partition Plan recommended two states. According to the UN recommendation, Judea & Samaria would have been in the Arab state and Jews would remain living there. Jordan's actions totally contradict the plan – Judea & Samaria were illegally annexed to Jordan and all Jews were expelled. The resolution was passed by the General Assembly making it advisory. Only Security Council resolutions are binding. In any case, the Arabs rejected the recommendations and they became moot. The UN Partition Plan does not supersede Israel's legal rights on the region, that stem from the League of Nations Mandate for Palestine.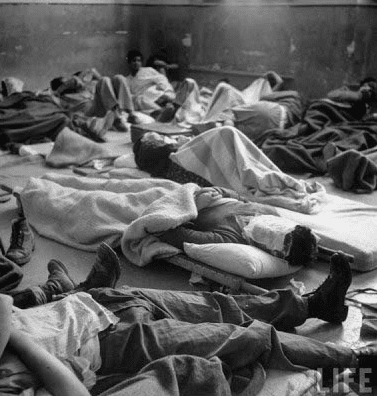 Jewish soldiers lying injured in hospital after surrender of city. Jerusalem, Israel. June 1948 (Source: Life Magazine)
Those who label Israel's settlements in Judea & Samaria as illegal, or promote sanctions on  Israel over the settlements, like Airbnb's abandoned boycott on Jewish properties in Judea & Samaria and Ireland's proposed settlement boycott bill, are effectively supporting that crime of ethnic cleansing.
Their immoral policies are suggesting that Jews should be punished for reclaiming their legally-owned property for which they were removed using pogroms, massacres and expulsions in 1929, 1936 and 1948.
Such views are fundamentally racist and discriminatory against Jews
They claim that Jews should not be allowed to settle in Judea & Samaria solely because of their ethnicity. They ignore human rights of Jews as well as their legal and property rights and attempt to force another ethnic cleansing of Jews from the region, just like the one Jordan committed in 1948.
Those views also contradict international law which fully protects the right of Jews to settle in Judea & Samaria. This right is included in Article 6 of the Mandate for Palestine which covers all land west of the Jordan river, including Judea & Samaria, and is fully protected by the UN Charter Article 80.
In summary, Jews have a historical, moral and legal right to settle in Judea & Samaria. Any resolutions or bills claiming otherwise must be rejected.