Haifa Technion opens for study - 9 February 1925
"Israel can win the battle for survival only by developing expert knowledge in technology." – Albert Einstein
The Technion–Israel Institute of Technology, which officially opened its doors at Haifa on this day 96 years ago, was the first institute of scientific and technical higher education in the land of Israel. Its opening, 23 years before the Declaration of Independence, was a major milestone on the way to the revival of a nation state for the Jewish people in their ancestral homeland. (Compare the foundation of the National University of Ireland in pre-independence 1909, with its constituent colleges at Dublin, Galway and Cork).
The foundation stone of the Technion had been laid thirteen years earlier, in 1912, when the region belonged to a province of the Turkish Ottoman empire. In 1925, it was part of the British Mandate for Palestine. Jewish people had been settling there in large numbers since the 1880s, escaping the pogroms then taking place in the Russian empire and, later, during the Russian Revolution and in post-World War I eastern Europe.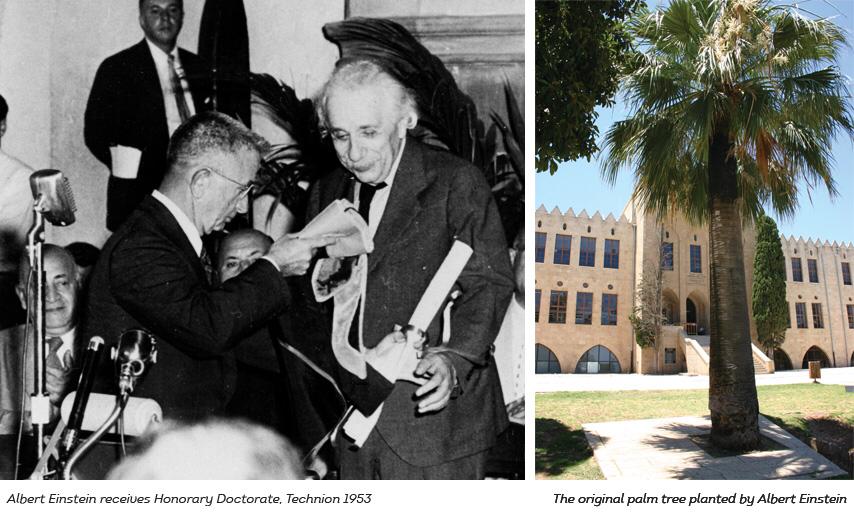 Although originally conceived and funded by German-speaking Jewish donors, its board of trustees took an early decision to use Hebrew as the common language of instruction for its expected students of many linguistic backgrounds. As the building neared completion in 1923, it was visited by Albert Einstein, who planted a palm tree that still stands on the original site on the northern slope of Mount Carmel overlooking Haifa Bay. (Einstein would return thirty years later to receive an honorary doctorate.)
Since then, the Technion has expanded to the size of a small city spread over three campuses, with 18 academic departments and 14,000 students in engineering, natural sciences, medicine and architecture. Its long list of alumni have been crucial to the building of the infrastructure of the modern state of Israel.
Technion applied research is a major source of the technological innovation and entrepreneurship that drive the country's 'start-up nation' economy and the development of its defence capabilities. Its graduates make up over 70 per cent of the founders and managers of Israel's high-tech businesses. Eighty per cent of the state's NASDAQ companies were founded or are led by Technion graduates.
The Technion regularly features in the top rankings of world universities. It was rated 51st by the Centre for World University Rankings in 2012, and 85th by the Academic (Shanghai) Ranking of World Universities in 2019. It is ranked first in the world in Digital Education on the Times Higher Education scale and is eighth in the world for producing Nobel laureates (of whom four are currently on its faculty).
A key test for any emerging nation state is whether it can establish a system of higher education to give its people the opportunity to compete with and contribute to the best in world scholarship, research and technological development. On the evidence of the Technion alone, Israel has met the challenge with flying colours.