Omar Barghouti, co-founder of the Boycott, Divestment and Sanctions (BDS) movement against Israel and one of its most outspoken leaders, was denied entry to the US earlier this month as he attempted to board a flight at Israel's Ben Gurion airport. He told the Guardian newspaper that the US consulate informed airline staff that US immigration had banned him from entering the country, although he was not provided with a reason. There is no doubt Barghouti knows the reason, given twenty-seven US states have adopted stringent anti-boycott laws.
It now transpires that a Spanish court has admitted a lawsuit has been filed against Barghouti by ACOM, a pro-Israel organisation in Spain. The lawsuit makes him an "investigated" person by the Spanish legal system. The reason given is that he may have committed the crime of "incitement to hatred" according to article 510 of the Spanish Penal Code.
Back in August 2016 the City Council of Cádiz approved a "city free from Israeli apartheid" motion against the Jewish state. Cádiz, the oldest city in Spain is governed by the far-left Chavist party Podemos, allied with IU (a Communist Party), including the Socialist Party that governs Spain.
Earlier this month the Algemeiner reported a Spanish court ruling that the city council of Cádiz had violated four fundamental rights enshrined in the Spanish constitution when it cancelled an Israeli film festival due to take place there, effectively annulling the city's adhesion to BDS.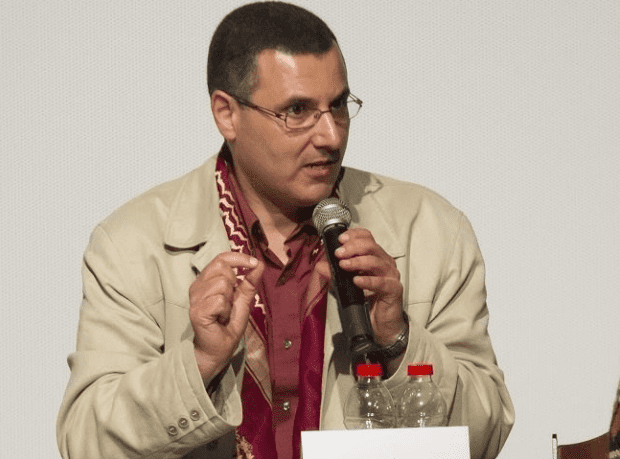 Omar Barghouti: recently denied entry to the USA (Source: Israel Hayom)
Although Barghouti says the BDS movement is non-violent he acknowledges the ultimate success of BDS would result in the destruction of Israel. He has repeatedly stated his opposition to a two-state solution, instead calling for one Palestinian controlled majority state: "Definitely, most definitely we oppose a Jewish state in any part of Palestine. No Palestinian, rational Palestinian, not a sell-out Palestinian, will ever accept a Jewish state in Palestine."
In what amounts to a double blow for Cádiz City Council, the Spanish court is also investigating those within the Council who promoted these hateful, discriminatory and illegal measures and who go against the peaceful coexistence established by the Spanish constitution.
It looks like the net might be closing in for Barghouti and the BDS movement