"They just want to go about their lives as we go about our lives here. A boycott that targets the man on the street is not fair!"
The people of Israel had much to celebrate on Saturday 12th May when Israel's Netta captured Europe's hearts and votes with her quirky Eurovision entry Toy.
Since then, Charlie McGettigan has called for the Eurovision to "make a statement" by not holding it in Israel next year and for Ireland to boycott it, if it does.
There are many artists in Ireland who don't agree with the boycotting of Israel however. Donna McCaul, who represented Ireland in 2005 has said she would be excited to perform in 2019 and is willing to "handle a little grief."
Another performer who is willing to speak up in defence of Israel is Keith Fay of Dublin folk metal band Cruachan. We spoke with Keith earlier this week and he agreed to be interviewed and share his own experience of the intimidatory tactics of the Boycott, Divest, Sanction (BDS) movement.
Keith formed Cruachan as a teenager back in 1992. "I was very into heavy metal music and Irish traditional music so I thought it would be a great idea to create a fusion style of music which is now known as Folk Metal" Keith says. "It's become a huge worldwide genre and I'm credited with its creation which is something I'm very proud of."
The band is now very successful and enjoys a worldwide fan base. "We always struggled to grow our fan base in Ireland but that has slowly changed for the better over the years", Keith continues. "If you look at our Facebook page you'll see people interacting with us from the US to Australia, India to Japan and of course Israel, which I guess is why you got in touch with me!"
Indeed! Cruachan has played all over the globe, including Europe, South America, Scandinavia, the Caribbean and Ukraine. At one point, they were the most toured Irish band in Russia, playing in parts no other western band had ever been to.
It was inevitable that sooner or later the band would be invited to play in Israel, which enjoys a very diverse and vibrant music scene. The invitation came in 2014.
"Like any other band we received an email asking if we would be interested in playing a small folk festival. We discussed terms and agreed a date. As far as we were concerned it was just another festival. There's a large metal community in Israel and we have a lot of fans there, so why wouldn't we play?"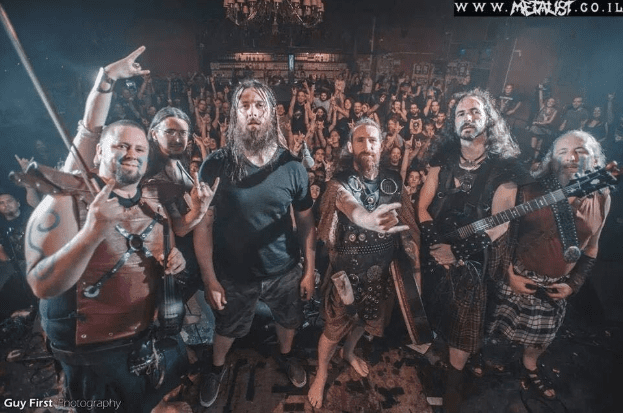 Cruachan playing in Tel Aviv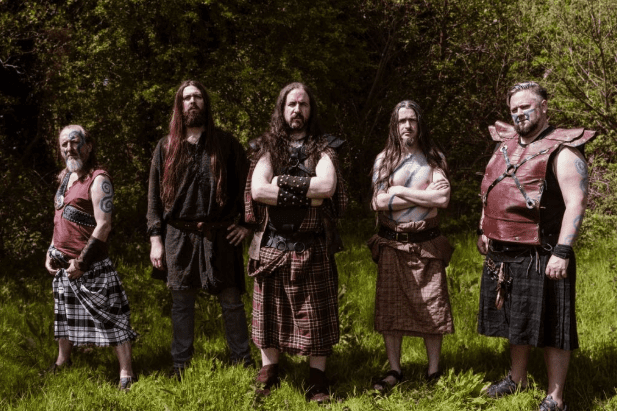 Cruachan – a force to be reckoned with
All was going well until the band was approached by BDS
Anyone who really looks into the BDS movement will know that its real aim has nothing to do with peace, but to bring down the state of Israel. So what happened exactly?
"Wow, it was horrendous", Keith says, "I had no idea what BDS was. When we put the dates on our facebook page we were bombarded by Irish people telling us not to play the show. They were posting videos of people being beaten up; they would post video after video, with message after message calling us bastards. I received emails, pretty much ORDERING me not to play there. It was very intimidating."
Keith and the other band members had mixed reactions to this bullying and intimidation. "For one, nobody likes being told what to do so we pushed back and barred people off our page."
But the band was also worried by the accusations, so they started to question exactly what was going on. "I have metal friends in both the Arab world and in Israel so I spoke to all of them. It was my Arab friends who told me exactly what BDS is and what their purpose is. That was an eye opener and for the record most of my Arab friends (they live in UAE, Jordan and Israel) told me they do not support BDS. Obviously my Israeli friends just simply said F**k BDS, come to Israel."
Although the intimidation almost caused Cruachan to cancel the show, a few things happened to convince them that going ahead was the right thing to do. That mainly had to do with a 14 year old Israeli girl, but it was the sheer craziness and paranoia of the keyboard warriors that acted as the final catalyst.
"Firstly, the metal community is not like any other musical community", Keith explains. "We are a family no matter what our religion or culture is. People not into metal won't really understand that, but when we were receiving the abuse from the BDS guys – the amount of support we got, and hatred they got from the Irish metal community, was great to see."
"We are not political" Keith continues. "We weren't going to Israel to make money. We were playing for free as long as the air fare was covered. The main thing that convinced us to go ahead was twofold. Firstly, we received an email (one of many) from a young Israeli fan called Shelley saying that she and her dad were really looking forward to the show and pleading with us not to cancel. She was 14 at the time. That convinced us. It was the last straw if you will. How can anyone politicise a 14 year old child?"
"When we announced the show, the BDS people in Ireland said that Shelley was a creation of the Israeli embassy in Dublin. It was the sheer madness of that statement that made us realise that playing the show was absolutely the right thing to do, so we went ahead."
Cruachan had an amazing time in Israel, although the social media intimidation continued, with people posting that "no Arabs will be able to go to your show" and "your show is for Jews only." The reality of course was completely the opposite, with Jews, Muslims, Arabs, pagans and atheists all united, and all rocking out together as one big metal community.
"The most irritating thing was that there were two guys from Gaza at our show. BDS said this was impossible. To this day I continue to say to those BDS people who say it's impossible – well, I spoke to them – those two guys from Gaza, and two nicer guys you could not hope to meet."
Although Keith doesn't really "get" pop music, he is disappointed that people only focus on the negative press that Israel receives. As far as the Israeli Eurovision singer, Netta, is concerned, he feels the positive message she puts across for women and for body positivity was lost on people.
Keith and the band would be more than happy to represent Ireland in Israel next year. "We've always wanted to represent Ireland and we hope and pray it happens. We don't yet have a song in mind but if it became a realistic possibility, we would craft the greatest song in recent Irish Eurovision history! The problem with Cruachan is that if we represent Ireland, we will actually win it", he laughs.
Finally, what would he say to someone who is in two minds about supporting a boycott?
"It's a bad thing, especially the cultural boycott that they tried to force on us. Music brings people together as we showed at our concert. I have friends in Israel that are not political, some are very vocal about their dislike of the current government and some support the current government."
"They hate the conflict and dream of peace between Israel and the Palestinians. They're just regular people and constantly ask why they're paying the price and having to suffer the effects of a cultural boycott. They just want to go about their lives as we go about our lives here. A boycott that targets the man on the street is not fair!"