"Bearing in mind Ireland's continuing no-strings-attached largesse, one can understand Abbas's warm smile for Michael D. Higgins"
The UNRWA (United Nations Relief and Works Agency) is a United Nations organisation that supports Palestinian refugees from the Israeli-Arab conflicts of the late 1940s, as well as their descendants. While all other refugees get assistance from the UNHCR (United Nations High Commissioner for Refugees), the UNRWA is specifically for Palestinians.
It is the only UN agency dedicated to helping refugees from just one side of a one particular conflict. Also, the UNRWA is the only one that recognises refugee status as being inherited across generations. So, while there were between 600,000 and 700,000 Palestinian refugees in the late 1940s, their 5-6 million descendants today are also counted as refugees. However, the UNRWA does nothing and never has done anything to assist nearly one million Jewish refugees from Arab and Islamic countries, or their descendants. Nor – for the record – does the UNHCR.
Antisemitism, terrorism, and martyrdom
The UNRWA was in the news earlier this month, and not for good reasons. In early September, the UNRWA Commissioner (Philippe Lazzarini) appeared before the European Parliament's Foreign Affairs Committee and faced scathing criticism over the content of textbooks used by UNRWA schools. A report published earlier this year found that school material produced by the UNRWA sought to indoctrinate Palestinian children with hatred and antisemitism and promoted terrorism, violence and martyrdom.
The UNRWA Commissioner also faced harsh comments about his response to similar criticisms from previous years. The Commissioner had said that such accusations were "baseless and shameless", prompting one German Green MEP to retort that he was "weary of having to go back to the same conversation year after year." He further told the UNRWA Commissioner to "work on the problem[s], instead of insulting those that raise them". (4)
Corruption and mismanagement
Along with that, there is ample evidence pointing to major problems of corruption and mismanagement at the agency. In 2019, Belgium, the Netherlands and Switzerland suspended funding for a time over such concerns. (5)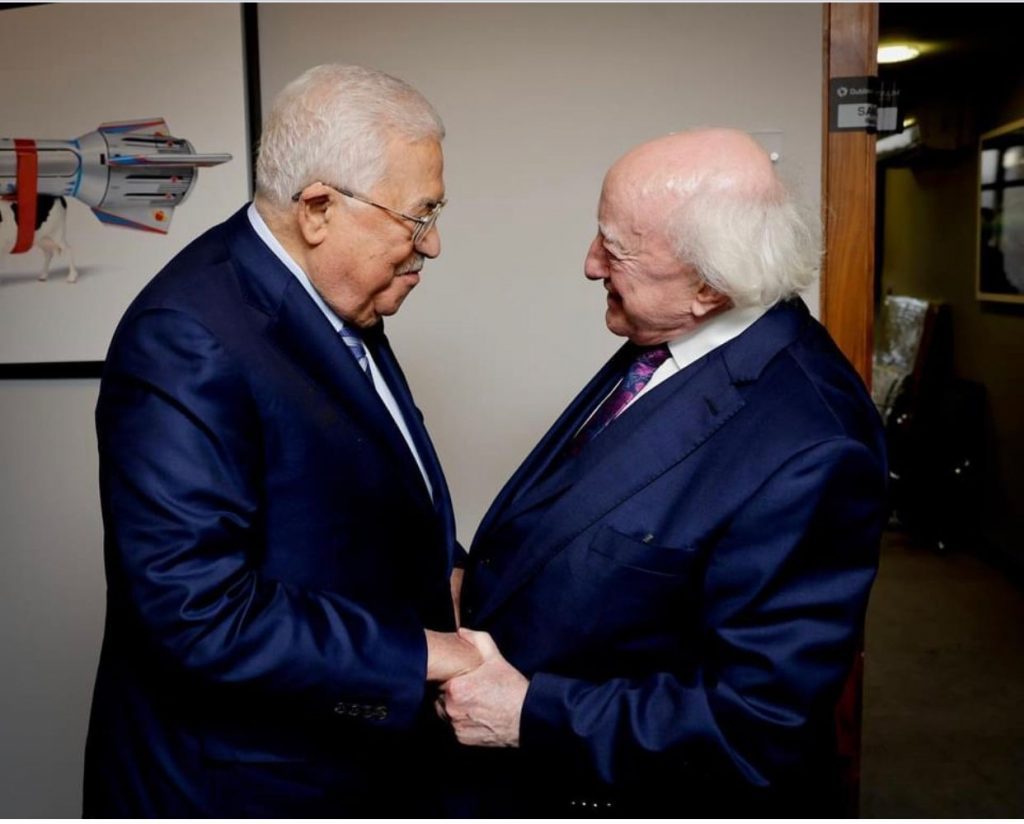 Such concerns don't seem to have been foremost in the minds of Irish political leaders when Mahmoud Abbas, the president of the Palestinian Authority visited this country a few days ago. Simon Coveney, Minister for Foreign Affairs used the occasion to announce an extra two million euro in funding for the UNRWA (1). This is additional to the six million euro that Minister Coveney announced that Ireland would contribute to the UNRWA every year from 2021-23 (2). Thus, Ireland's contribution this year will be at least 8 million euro.
30 or 40 times more per capita than Arab countries
Let's put these figures in a wider international context. In 2021, the entire Arab world (population just under 500 million) contributed just USD 20m to the UNRWA (3). This seems likely to decline even further in 2022 and 2023. Assuming a 1:1 exchange rate of the US dollar and the euro, the Republic of Ireland (with a population around 5 million) contributed €6 million, approximately one third of that amount.
That amounts to an Irish contribution per capita approximately thirty times greater than that of the Arab world. In 2022, it looks set to be even greater. All other things being equal, it could be forty times greater. If Coveney had any concerns about UNRWA corruption or UNRWA school books promoting hatred of Jews, he didn't raise them with Abbas or didn't make such discussions public.
If no-strings-attached largesse with taxpayers' money is a measure of friendship, then the Irish political class is a much better friend to Abbas than his Arab "brothers". However, Irish taxpayers have absolutely no say in this and when this Irish taxpayer (and others) raise concerns about this with government leaders, we get nothing more than a bland acknowledgement of the email we sent. Bearing this in mind, one can well understand the warm smile that Mahmoud Abbas had in the last few days for President Michael D. Higgins.
Minister Coveney announces additional funding of €2 million to UN Agency for Palestine Refugees – Irish government website – 19 Sep 2022  (

https://www.gov.ie/en/press-release/c5bc5-minister-coveney-announces-additional-funding-of-2-million-to-un-agency-for-palestine-refugees/)
Minister Coveney announces funding of 6 million to UN Agency for Palestine Refugees – Irish government website – 16 Mar 2021 (

https://www.gov.ie/en/press-release/4c61f-minister-coveney-announces-funding-of-6-million-to-un-agency-for-palestine-refugees/)
Arab aid to UN Palestinian refugee agency continues to decline: Official – Business Standard – 18 Sep 2022 (

https://www.business-standard.com/article/international/arab-aid-to-un-palestinian-refugee-agency-continues-to-decline-official-122091800075_1.html)
European Union lawmakers criticize UNRWA chief over Palestinian textbooks – JNS.org – 4 Sep 2022 (

https://www.jns.org/eu-foreign-affairs-committee-heavily-criticizes-unrwa-chief-over-palestinian-textbooks/)
Netherlands resumes funding UNRWA despite alleged abuses – JPOST.com – 11 Dec 2019 (

https://www.jpost.com/middle-east/netherlands-resumes-funding-unrwa-despite-alleged-abuses-610552)