The Ireland Israel Alliance has called on the Irish Government to condemn the recent spate of Hamas rocket attacks against civilians in central Israel and in communities close to the Gaza border.
The most recent spate started on Thursday 14th March when two rockets were fired towards central Israel, causing the air raid sirens to sound in Tel Aviv for the first time since 2014. One of the rockets was intercepted by the iron dome system and the other landed in the sea.
Sirens sound in Tel Aviv on Thursday 14th March for the first time since 2014
A further rocket attack last week completely demolished a house in Mishmeret, central Israel, injuring seven people including two infants and killing four dogs. According to Israeli newspaper Israel Hayom, an anonymous senior Hamas official claimed the firing of the rocket was ordered by Iran via an Islamic Jihad cell operating out of the Gaza Strip, with the full knowledge of Hamas.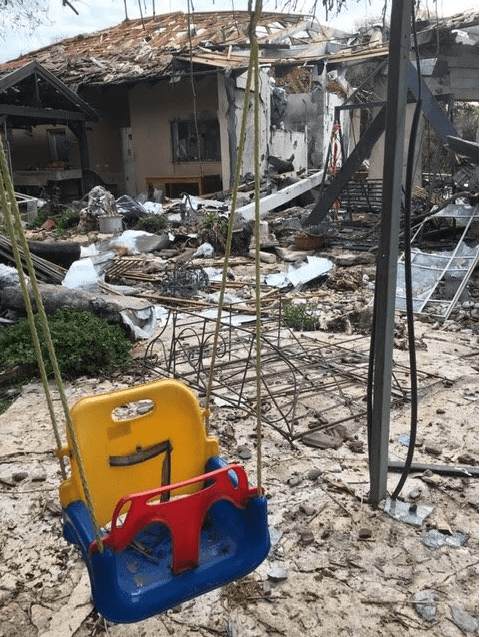 Rocket attack completely demolished a house in central Israel, injuring seven people including two infants.
This tops off a year of sustained violence and terror against Israel
According to a recent review, during the past year Palestinians launched 1,233 rockets from Gaza, hurled 94 explosive devices and 600 Molotov cocktails, the majority of which were attached to balloons and inflated condoms. In total, 152 acts of arson were committed, with 8,000 acres of Israeli farmland and nature torched and destroyed, causing untold environmental damage. In addition, hundreds of animals were suffocated and burned. Overall, $9.5 million in damage was caused.
What other nation would put up with this violence against its citizens? Despite all of this the Israeli Defence Forces respond with great restraint, giving ample warning of attacks on military installations and only uses live fire if absolutely necessary. Eighteen democratic nations have condemned the violence, yet there is a conspicuous and enduring silence from the Irish Government.
Only a day after the Gaza border riots of Saturday 30th March, during which Palestinian sources report two militants were killed by IDF fire and 316 wounded, a further five rockets were fired at Israel, sending residents of nearby communities rushing once again to bomb shelters. While we mourn every death, be it that of a Palestinian or an Israeli, the Palestinian leadership must be held to account for encouraging their citizens to engage in this type of deadly activity.
Meanwhile, Hamas violently suppresses its own citizens using live fire and torture. Reports from Palestinian media sources claim that as many as 24 journalists have been arrested by Hamas security forces to prevent them from covering the protests, most notably Palestinian writer Atef Abu Saif, who was hospitalised with a broken leg, broken arm, fractured skull and lacerations to face and upper body. Hamas also broke the five fingers on his right hand – a recognised punishment for writers.
Despite this past year of unprecedented Hamas violence against both Israel and its own citizens, the Irish government remains conspicuously silent. Eighteen democratic nations did condemn the violence.