Isaac Herzog has just been elected the country's 11th head of state.
If you think that Joe Biden is the only president outside of Ireland who has Irish roots then get ready to think again. Biden is about to be upstaged by another president whose ties to the Emerald Isle are even closer than those of the man in the White House.
Earlier today, the Israeli parliament – the Knesset – elected Isaac Herzog as the country's eleventh president. As in Ireland, the role is largely ceremonial. Mr Herzog beat rival candidate Myriam Peretz by 87 votes to 26 and will assume the presidency next month, replacing Reuven Rivlin, who is ending his seven-year term.
Mr Herzog, a former centre-left politician, is a son of the late Israeli president Chaim Herzog who was born in Belfast and spent his early life in Dublin. Chaim's father – Rabbi Yitzhak HaLevi Herzog – was the first Chief Rabbi of Ireland. He was a fluent speaker of Irish – and in an irony that is extraordinary considering the naked hatred of modern day Sinn Féiners for Israel –  he was nicknamed "the Sinn Féin Rabbi" due to his firm support for the First Dáil and the Irish Republican cause during the Irish War of Independence.
The family emigrated to what was then Mandatory Palestine in 1935 when Chaim was 17 years old. Isaac Herzog hasn't forgotten his Irish roots and was here in 2012 when he met then Sinn Féin leader, Gerry Adams. He says that he had "fascinating talks" with Adams.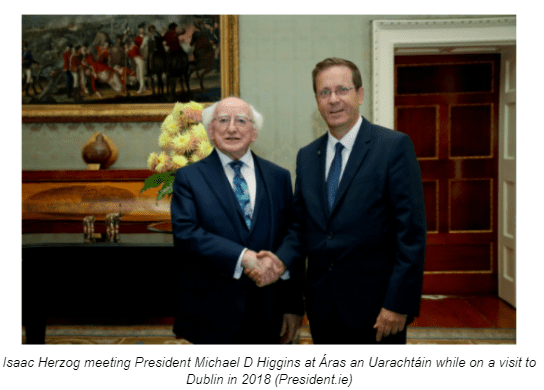 He was here again in October 2018 for a celebration at the Department of Foreign Affairs to mark the centenary of the birth of his father. At that celebration, then Tánaiste, Mr Simon Coveney, spoke warmly of the "personal connections between Ireland and Israel". He also spoke of "the valuable contribution that the Jewish people have made, and continue to make, to life in Ireland".
At a time when relations between Israel and Ireland have never been worse and when many Israelis – correctly in our opinion – feel that Irish politicians have turned a blind eye to the dangers faced by their country and are only interested in the pro-Palestinian narrative, we at the Ireland Israel Alliance wish President-Elect Isaac Herzog the very best during his seven year term. We hope he can draw on his Irish heritage to help Irish people to see that the simplistic view of "Israel bad/Hamas and Fatah good" is not only hugely erroneous but actually strengthens the hand of hardliners on both sides and gravely undermines prospects of peace.