Few would deny that the Northern Ireland economy is facing numerous challenges at the moment. The exit of the United Kingdom from the European Union was always going to be difficult to navigate. However, with no Stormont Executive sitting for over 2 years, the local leadership that is needed is lacking. So, it's no surprise that Northern Irish people are concerned about the future; 
consumer confidence is low
 and 
business activity has undergone its sharpest fall since 2012
.
Whilst they weren't the only parties who supported the vote, we in the Ireland Israel Alliance sadly know that Sinn Féin and People Before Profit are to the forefront of anti-Israel extremism on the Island of Ireland. We don't use the term "extremism" lightly but their obsession with that one country beggars belief. 
More
 and 
more
European countries
 are recognizing the anti-Israel BDS (Boycott Divestment Sanctions) campaign for what it is: antisemitic and driven by hatred. And if antisemitism and hatred isn't extreme, then what is? However, Sinn Féin and People Before Profit are so wedded to that "cause" that they will even harm their own voters' economic well-being in favour of it.
The Northern Ireland trade mission to Israel will take place in July but the word will already be out in Israel that the city council of the province's largest city is anti-Israeli. If you were an Israeli entrepreneur, would you want to invest there?
Of course, the antics of Sinn Féin and People Before Profit don't just end at trade missions. In the Republic of Ireland (RoI), they've spent the last several years in a witless campaign of flying Palestinian flags over local council offices – so witless that sometimes Sinn Féiners don't even hold that flag they esteem so highly the right way up!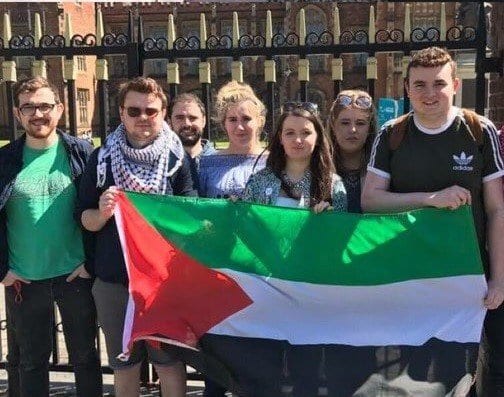 All countries should be equal before the ICC but some are more equal than others.
Meanwhile, one former People Before Profit councillor opposed the flying of the Irish flag over the County Hall in Swords. I am NOT making this up; read all about it in 
this article
. Irish flags bad, Palestinian flags (even upside-down ones) good.
He's a former People Before Profit councillor because he lost his seat in local elections last month in the RoI along with dozens and dozens of other councillors from his party and Sinn Féin. Irish people were fed up with their extremism and voted them out of office. However, the vote on Wednesday night on Belfast City Council suggests that their colleagues in Northern Ireland have not learned the lesson.