Not many people know Hamas better than their Palestinian "brothers and sisters" in Fatah.
After all, it was Hamas militants who slaughtered several score Fatah members in a bloody civil war in Gaza in 2007. So, when they criticize the hypocrisy and corruption of Hamas, the world should take notice.
As reported by MEMRI (the Middle East Media Research Institute), Mahmoud Habbash, advisor to PA President Abbas, slammed Hamas last Friday for "sending children to be killed or lose a limb, while [its] leaders are having a good time." Speaking in a sermon that was attended by Mahmoud Abbas and broadcast on the official PA TV channel, Habbash called Hamas "agenda-driven and reckless gamblers," whose "only job is to go to funerals and to visit mourning tents". 
In an implicit admission that the demonstrations have been violent, he urged Gazans to keep their actions peaceful. Just don't expect the world media to pay attention, though. Hamas is still given an easy ride by journalists who focus instead on Israeli attempts to defend their border communities against infiltration.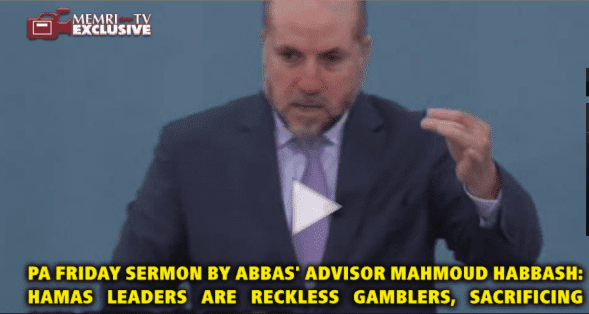 Advisor to PA President Abbas, Mahmoud Habbash slams Hamas for sacrificing Gazan women and children.