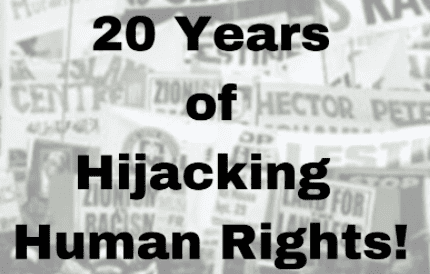 Dear Friends and Supporters
We are writing to you again to ask you to email Simon Coveney regarding the upcoming event to mark the 20th anniversary of the Durban Conference.
The first United Nations World Conference Against Racism, Racial Discrimination, Xenophobia and Related Intolerance was held in Durban, South Africa, in September 2001.
Regardless of its noble intentions, 'Durban' as it subsequently became known, quickly descended into an anti-Jewish hate-fest with an anti-Israel political agenda designed to turn Israel into a pariah state, along with attempts to deny antisemitism as a human rights issue.
Copies of the 'Protocols of the Elders of Zion' – a bogus and conspiratorial Russian text containing the supposed master plan for Jewish global domination were on sale, while outside the conference large antisemitic banners including those lamenting Hitler's failure to solve the "Jewish problem" were on display.
Multiple countries have announced that they will not be attending the conference, including the United States, Canada, Australia, the UK, Hungary, Austria, the Netherlands, the Czech Republic, Israel, Germany, France, and most recently, Bulgaria.
Given the utterly shameful displays of anti-Israel bias and Holocaust inversion broadcast from Dáil Éireann in May of this year, Ireland's international reputation really cannot afford to be further sullied by being seen to endorse Durban IV. Enough is enough!
Please email Foreign Minister Simon Coveney to ask that Ireland NOT ATTEND the event.
His email address is: simon.coveney@oireachtas.ie
We have included a selection of pointers below to include in your email.
However, these pointers are for guidance only. Please use your own words. Keep your email brief and to-the-point and always remember to keep it polite.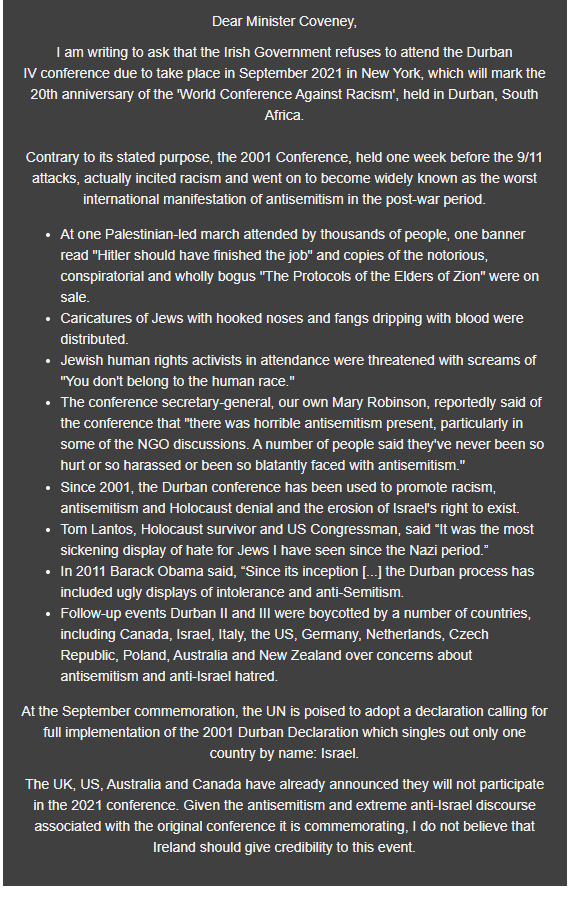 Thank you and best regards