Our First Israel Delegation Was A Great Success!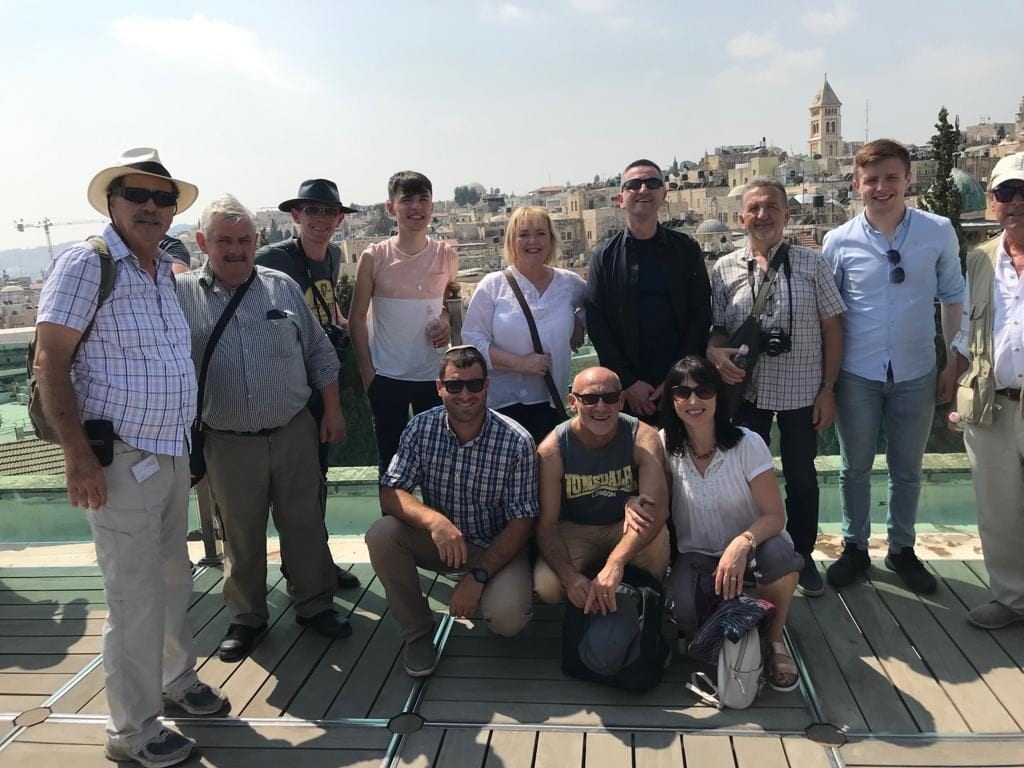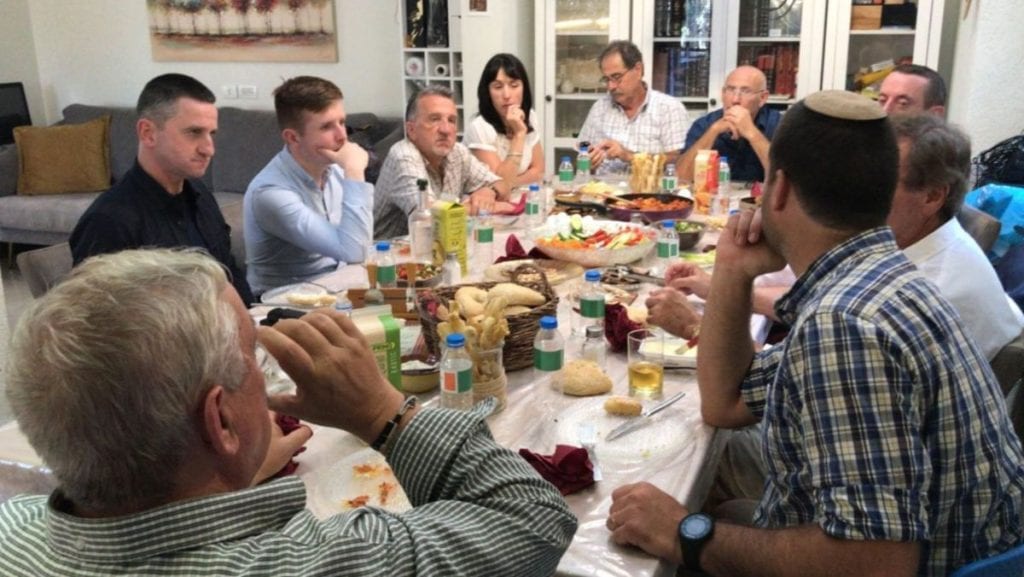 Our very mixed group of ten, from a wide variety of backgrounds, returned from a very intense five-day tour of Israel a few weeks ago.
 The aim of the tour was to get a better insight into the reality of daily life in Israel for Jews, Arabs and its minority groups. Our Israeli hosts allowed us access to experts, journalists, factory managers, farmers and a host of other ordinary people who spoke candidly about their lives in Israel and the impact the BDS movement has on their lives.
We started our trip with a visit to Jerusalem's loud and bustling Old City, where we made our way through its ancient cobbled alleyways. The famous Via Dolorosa and Church of the Holy Sepulcher were thronged with Christian pilgrims, and further along at the Abar Bazaar, Arab traders jostled carts piled high with merchandise to the backdrop of the Muslim call to prayer from the nearby Al Aqsa Mosque, next to the site of the two former Jewish Temples. We also visited the Western Wall Complex, where some of our group prayed and left petitions in the crevices of the Wall.
Next stop was a very moving visit to The World Holocaust Remembrance Centre (Yad Vashem). The museum is located on Mount Herzl (the Mount of Remembrance) in Jerusalem and depicts the story of the Holocaust from a uniquely Jewish perspective via photographs, films, original artifacts, personal possessions found in the camps and ghettos, and survivor testimonies.
The name Yad Vashem means "a monument and a name".
As well as honouring the names of those murdered, Yad Vashem's research centre works tirelessly to record the names of victims who were not survived by family members, and to educate people on the nature and dangers of antisemitism – dangers that affect all of us, not only the Jewish people.
The main body of Yad Vashem is hidden within the earth and takes the form of an elongated prism, eventually jutting out of the earth and opening out onto a balcony overlooking Jerusalem. See photos below:

The following day we headed into the Jordan Valley, a vast area that represents the best of Israeli ingenuity in terms of water conservation and management, and where we were hosted by Jewish Israeli families at the moshavs of Tomer, Mechola and Naama. We witnessed first-hand, the deep love and commitment these farmers have for their land and how they have transformed hard, arid, stony ground to soft, dark earth that produces all kinds of fruits, vegetables, herbs and spices, including world-class Medjoul dates, 50% of which are exported worldwide.
In cooperation with the Israel Electric Company, the Jordan Valley produces electricity from solar energy. 367 solar powered units have been established in the Jordan Valley on rooftops, sheds, public buildings and open fields.
The BDS movement wishes to destroy all of this with its repugnant call to Boycott, Divest and Sanction Israel.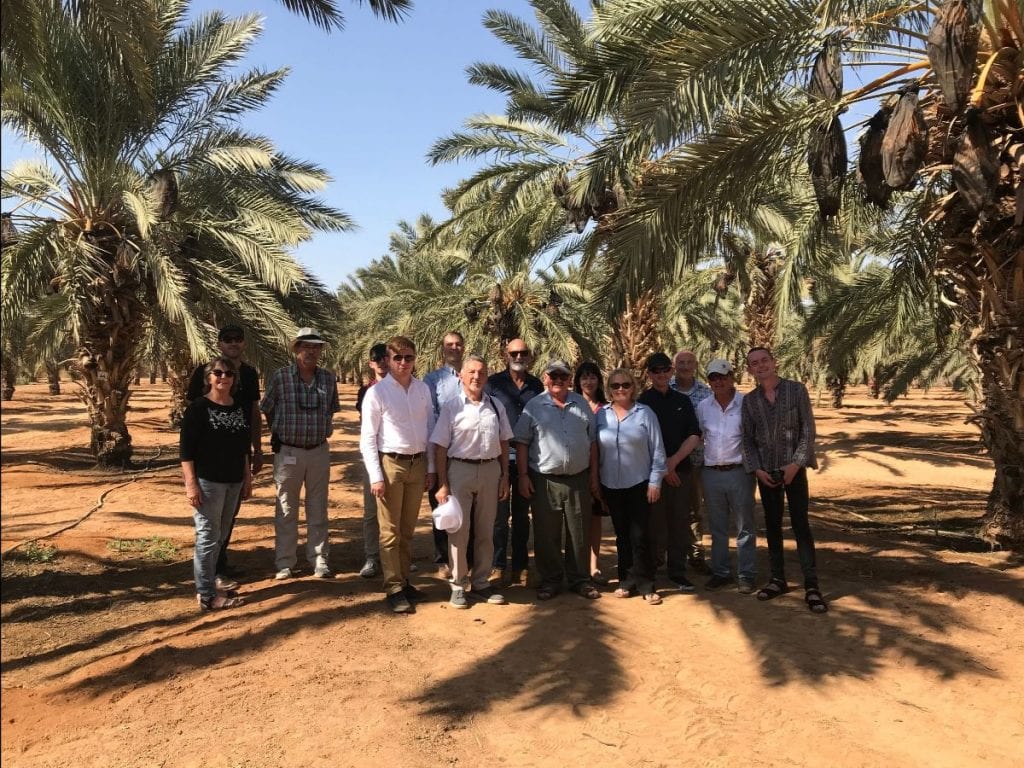 A major highlight was a visit to Ziv General Hospital in the north of Israel, 11 km from the border with Lebanon and 30 km from Syria.
The staff is multi-ethnic, reflecting the wonderful mosaic of people from different religious and ethnic backgrounds such as Muslims, Christians, Jews, Bedouin and Druze (an Arabic speaking ethno-religious group) who live in the region and avail of the hospital's services.
We were delighted to meet its General Director, Dr Salman Zarka, himself a Druze, who spoke to us about the unique security challenges the hospital faces. During the Second Lebanon War of 2006 the hospital took direct hits from Hezbollah missiles, during which time its staff continued to treat 1,500 wounded, sometimes under fire.
Currently they have seven operating theaters, two of which are specially reinforced for times of war. Dr Zarka explained that because of the advanced arsenal Hezbollah now has, Ziv's mission is to have all seven of its theaters reinforced against attack. "We are praying for peace and we hope for peace, but we have to be ready for war, including the possibility of chemical weapon attacks", he said.
At the height of the Syrian civil war the hospital provided unique humanitarian aid to some 5,000 Syrians, many of them unaccompanied children. "By 2013 the battle in Syria spread to our border and the wounded started to arrive. Under international law it is acceptable to close your border in times of war. But Israel is known for providing humanitarian aid to people all over the world including Haiti and Nepal. So we decided to provide medical help to those wounded Syrians and we set up a field hospital at the border with an intensive care unit. Later we evacuated them to Ziv hospital, before sending them back to Syria", Dr Zarka explained.
We have invited Dr Zarka to visit Ireland to speak in 2020 and are delighted he has accepted.
Our group was also hosted at the Knesset (Israeli Parliament). We visited Capernaum and Nazareth, as well as the Peres Centre for Peace and Innovation, where we had the opportunity to experience virtual reality head-sets!
Tom Griffen, one of our delegates, was moved to remark at the end of the trip: "As a former sceptic of Israel's handling of the Arab-Israeli conflict, my respect for Israel has increased exponentially. I wish others would know the real facts of what is truly happening there".
Audrey Lucas said: "Contrary to what the international community believes, there is ample humanitarian and economic evidence to prove that Israel makes every possible effort to reach out and to support Palestinian civilians in their difficult plight. If there is one thing I learned on this trip, it is that Israel is neither the oppressor not the enemy of Palestinians".
Sean Lyons said: "The subject of BDS was mentioned by farmers and the factory manager. Israel is far from a perfect state they agreed, but BDS is a blunt instrument that affects everyone. Thousands of Arab jobs are being put at risk, as well as Israeli. Israel is a beautiful country. Reconciliation of all people in the region seems far off. Just as we in Ireland have seen, this is a slow process, with many twists, turns and setbacks. Solutions to the problems will not be easy. For the sake of the children, they must be found."