When peace between Israelis and Palestinians can sometimes appear an intractable aim, initiatives such as the "Science Training Encouraging Peace – Graduate Training Program" offer a very real and practical ray of hope.
Otherwise known as STEP, the venture was founded and directed by Professor Allen Taylor and his wife, Kim Kronenberg. STEP is based upon the concepts that diseases respect no walls and science knows no borders, and aims to build bridges across the socio-political divide between Israel and the Palestinian territories.
An American based program, but working out of Israel, STEP is unique in a number of ways, in that it is a person-to-person, cross-border program that brings young Israeli and Palestinian healthcare professionals and scholars together in the health and medical sciences, and funds their graduate education in pairs, for the duration of their degrees.
Each pair is comprised of one Israeli and one Palestinian. Day after day and face to face, they hone their skills and pursue answers to the region's public health and medical problems, enabling them to build bonds of trust, cooperation and interdependence. Whereas scientists often travel outside Israel or the Palestinian Authority for advanced training and remain abroad, having the advanced education in Israel means that they often choose to stay in the region.
Studying intensively together for the full length of an MS, PhD or certificate program in the same laboratory, the Israeli and Palestinian pair advance their careers, and enhance public services to their individual communities, while also passing on the STEP ethos to families and friends. On completion of their training, and when they return to their communities to establish careers and build businesses, they act as bridges for progressive cooperation between their populations.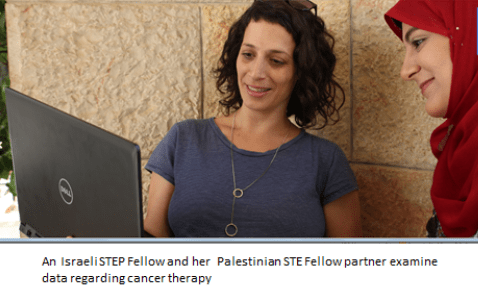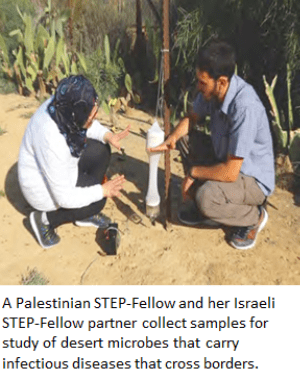 In its brief life so far, seven advanced degrees (MS and PhD) have been awarded, and two MDs will be awarded very soon.
As an example, one STEP Fellow, Ahmad, is director of the Diabetes Care Center at Augusta Victoria Hospital. The Center was recognized in 2017 by the International Diabetes Federation as a Center of Excellence and Center of Education.
Another STEP Fellow, Tomer, is frequently invited to countries throughout the world to share his expertise in the use of technology to address emergencies. He created an emergency preparedness website for use by first responders in Israel and worked with his STEP partner to translate the website into Arabic for use in the Palestinian territories.
Such is the closeness of the STEP Fellows and Faculty, they call themselves the "STEP Family" and work together to advance the program. One such example is when a group of them organized a day-long workshop at Ben Gurion University in Beersheva for West Bank health care professionals to learn about educational opportunities at the university.
Another pair has brought global health classes from Ben Gurion and Hebrew Universities to Augusta Victoria Hospital in East Jerusalem to learn about the Palestinian Healthcare system.
And so, as they work and socialise together, STEP Fellows become friends and get to know each others' families. In doing so, they invariably speak with each other about the political conflict, despite the challenges of doing so.
While funding remains a major challenge – the current cost is about $22,000 per pair per year for full time scholars – STEP is happily gaining recognition and aiming to expand its worthwhile project.