When Ahlam Tamimi learned from a journalist that she had murdered eight children, not just three as she had initially believed, she smiled broadly and continued with the interview.
A lot of discussion around the Israel-Palestine issue hinges on what anti-Israelis refer to as the "Apartheid Wall". This is a security barrier built in the early part of the last decade (2000-2009) following a wave of bombings by Palestinian terrorists that killed over 1,000 Israelis and injured over 7,000 more between 2000 and 2005. At that time, it was easy for people from Palestinian communities in Judea and Samaria to have access to major Israeli cities such as Jerusalem, Tel Aviv, and Haifa. There was almost literally nothing preventing them from carrying a bomb and planting it in a market, restaurant, bus station, or hotel – or in the case of suicide bombers, entering such premises and detonating the bomb. If you've heard of the phrase "shooting fish in a barrel", well, it wasn't far off that.
August 9th 2001 fell on a Thursday and so it was the last day of the working week in Israel – like Friday in other western countries. Families across Israel were preparing for the weekend and looking forward to having two days off from their busy schedules. Around 2pm, the Sbarro Pizzeria restaurant at the corner of King George Street and Jaffa Road in Jerusalem was packed with lunchtime customers.
They had no idea that approaching the restaurant were two terrorists: Izz al-Din Shuheil al-Masri and Ahlam Tamimi who had travelled into Jerusalem from the West Bank. Tamimi, a Jordanian national, was escorting al-Masri and looking for a target to kill Israelis. Al-Masri was carrying a guitar case containing between 5 and 10kg of explosives, along with nails, nuts and bolts.
Having chosen the Sbarro Pizzeria as the target, Tamimi departed and al-Masri entered the restaurant and exploded his bomb, killing 15 people and injuring 130 others. Many were left with horrific, life-changing injuries. One woman remains in hospital in a coma, more than twenty years after the attack having never regained consciousness. She has a daughter who was two years old at the time who miraculously was not injured.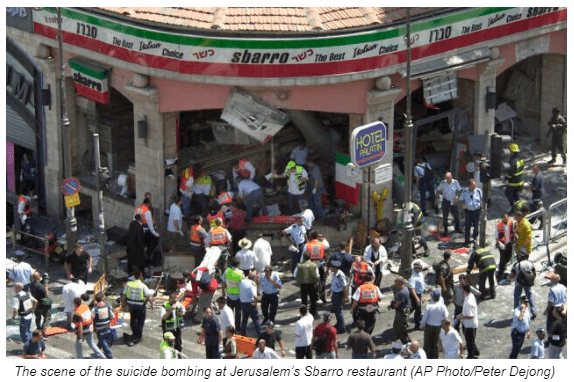 Tamimi was subsequently arrested, found guilty, and received 16 life sentences. However, she was released in 2011 in exchange for the release of captive Israeli soldier Gilad Shalit who had been held captive in Gaza by Hamas since 2006. She now lives in Jordan where she hosts a television talk show on a channel that's affiliated with Hamas.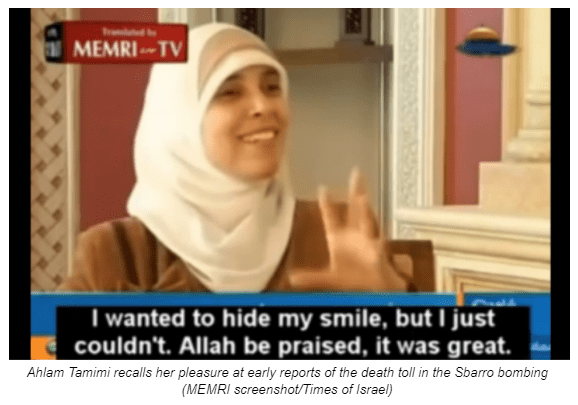 Sadly, she was far from being the only one who took pleasure in the slaughter. She describes being on a bus with other Palestinians when the first reports came through. "[T]he Palestinians around Damascus Gate were all smiling. You could sense that everybody was happy. When I got on the bus, […]they were all congratulating one another. They didn't even know one another, yet they were exchanging greetings.[…] On the way back [to Ramallah], we passed a Palestinian police checkpoint, and the policemen were laughing. One of them stuck his head in and said: 'Congratulations to us all.' Everybody was happy."
Since the construction of the security barrier, the number of terror attacks originating from the West Bank has fallen by more than 90 percent. In 2002, 457 Israelis died from terrorist attacks. By 2009, only eight Israelis died from such attacks. All those who criticise the security barrier need to bear this in mind. Like the ones who attack Israel for responding to missile attacks from Gaza, they are quick to censure but don't offer any alternative solutions. There is no doubt that the security barrier has saved countless Israeli lives and – like any country – Israel will put the lives of its people (Jewish, Muslim and Christian) before the views of those in distant countries who have no inkling of the dangers it faces every day.